Attendees are invited to view aircraft on display at Booth 841
HOUSTON--(BUSINESS WIRE)--Valmie Resources Inc. (OTCBB: VMRI) is present at AUVSI's (Association for Unmanned Vehicle Systems International) massive XPONENTIAL 2017 taking place this week in Dallas as it unveils its latest aircraft. Valmie recently acquired the base units from industry pioneer ALTI UAS, who is co-presenting with the company at Booth 841.

"AUVSI has created a breathtaking futuristic environment of unmanned systems at XPONENTIAL that just a few short years ago would have been science fiction," said Gerald B. Hammack, Valmie President and CEO. "We are extremely pleased to be part of this exciting event that demonstrates what the future holds for this flourishing industry."
Valmie will be incorporating five of the featured aircraft as it initiates commercial operations, offering a combination of unmanned vehicles, components, and services.
In addition to adding the ALTI units to its fleet, Valmie recently announced it has been named as exclusive agent in North America for the next generation ALTI Transition.
Top features of the aerodynamic ALTI Transition include,
Flight time of up to 7 hours.
Ultra compact, true VTOL (vertical take off and land) capability with a wingspan of only 3m.
Modular, highly advanced rapid deploy airframe design.
Double hybrid - electric + fuel; VTOL + fixed wing.
ALTI officially launched the Transition system across the world last year in conjunction with AUVSI's Unmanned Systems Magazine, which featured the ALTI Transition as their June/July cover story.
At XPONENTIAL, the global community of leaders in drones, intelligent robotics, and unmanned systems come together to shape the future of the industry. Thousands of people from all areas of the unmanned industry worldwide are converging on the Kay Bailey Hutchison Convention Center in Dallas to get a look at the latest technology, increase their knowledge about the future of industry policy and regulation, and network with peers.
Teams from Valmie and ALTI UAS are on hand at Booth 841 to answer questions and provide details regarding the Transition's innovative features. Call 832-740-4159 or email info@valmie.com to schedule a meeting during or after the event.
About Valmie Resources (OTCBB: VMRI)
Valmie Resources is a U.S. company actively pursuing opportunities for the commercialization of leading edge products and services in the rapidly expanding unmanned technology industry. Valmie seeks concepts with valid business models positioned to make a significant impact within the four key "mega sectors" of technology: software, hardware, networking, and semiconductors. Valmie brings operating talent, tools, and leadership to emerging companies in these sectors, promoting industry awareness and developing economically sustainable partnerships while increasing shareholder value.
For further information visit http://valmie.com
About ALTI UAS
ALTI is an industry leading unmanned aerial systems (UAS) manufacturing corporation specializing in producing vehicles with vertical take off and landing (VTOL) capability. ALTI's products are based on many years of industry, technology and development experience. The company founder pioneered a range of commercial and industrial multi-rotor systems including the first small UAS with rapid deploy folding airframes, front mounted camera gimbals, and other unique features now found on many other systems.
Featured Product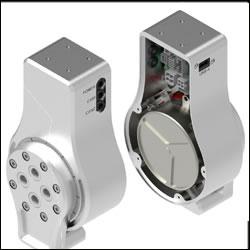 A brushless DC motor solution for use in hip and knee exoskeletons. This complete joint actuation unit consists of motor, gearhead, encoder and position controller. Fitting absolute encoder directly at the joint rotation provides designers increased positioning accuracy. The unit will deliver 54Nm of continuous torque and 120Nm on a 20% duty cycle. The system can be operated on supplies between 10 and 50V DC and the actuation speed is up to 22rpm.