Family-owned company controls quality and price by deploying smart automation with Sawyer
BOSTON - May 18, 2017 - Acorn Sales Company, a specialist in customized, handmade rubber stamps and embossing seals, has significantly shortened its supply chain by deploying Rethink Robotics Sawyer at its facility in Richmond, Va. Family-owned and operated for over three generations, Acorn is a self-described "small business operating in an Amazon world." With Sawyer, the company has maintained throughput, improved quality and reduced its reliance on outside suppliers, results that even five years ago would have been nearly impossible for a company of its size to attain affordably.

The Acorn team has deployed Sawyer operating a band saw, where the robot transfers, aligns and cuts pieces of wood to be used as mounts for rubber stamps. Sawyer cuts, drills and inserts the wooden handles for the stamp mounts, effectively automating a complicated, multi-step process.
Before Sawyer, Acorn purchased pre-cut stamp mounts with handles from a third-party supplier, which led to variable pricing, shipping delays and inconsistent stamp mount quality. The company has long sought an option for bringing this process in house, but doing so was too expensive to automate and tedious for human workers. Upon discovering Sawyer, the Acorn team knew it had identified a solution that could shorten the supply chain.
"As a family-owned business, one of our main concerns is creating a business that can be sustained through future generations. When we first heard about collaborative robots and saw Sawyer, we knew he was part of our answer. Since deploying Sawyer, we have drastically reduced the length of our supply chain, which has saved us money, and given us more control over the quality of our products," said Holly Raidabaugh, vice president, Acorn Sales Company. "The market has changed significantly, and customers have more expectations for customization than ever before. Having the ability to ensure quality without sacrificing flexibility or affordability has been a huge win for us."
Founded in 1964, Acorn Sales specializes in stamps, seals, name badges, stock certificates, corporate kits and more. By bringing the fabrication of stamp components in house, Acorn can keep its prices in line with competitors, a critical factor in a price-driven market. Moving forward, Acorn hopes to deploy Sawyer on a variety of tasks, including a potential overnight shift.
"Traditionally, automation has been exclusively available to larger manufacturers, but the benefit of flexible and affordable collaborative robots is that small and mid-size manufacturers can take advantage of automation as well," said Jim Lawton, chief product and marketing officer at Rethink Robotics. "For manufacturers like Acorn to stay competitive, they need to find ways to shorten supply chains, increase product quality and drive competitive pricing in the market. Sawyer enables manufacturers to be innovative and creative, and gives them a real competitive edge."
For more information, please visit www.rethinkrobotics.com.
About Rethink Robotics
Rethink Robotics is transforming the way manufacturing gets done, with smart, collaborative robots able to automate the 90 percent of tasks that until now, have been beyond the reach of traditional automation. Its Baxter® and Sawyer robots, powered by the Intera software platform, adapt to real-world variability, can change applications quickly and perform tasks like people do. The result: manufacturers of all shapes, sizes and industries get the fast-to-deploy, easy-to-use and versatile automation solution they need to increase flexibility, lower cost and accelerate innovation.
Based in Boston, the Rethink product suite is available in Asia, Europe and North America. The company is funded by Bezos Expeditions, CRV, Highland Capital Partners, Sigma Partners, DFJ, GE Ventures and Goldman Sachs. For more information about Rethink Robotics, please visit www.rethinkrobotics.com and follows us on Twitter @RethinkRobotics.
Featured Product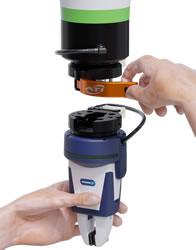 Simpler, stronger, and more precise. ATI Industrial Automation has developed a series of Manual Tool Changers that provides a cost-effective solution for quickly changing tools by hand. They feature a unique design that combines high strength, excellent repeatability, and a patent-pending screw-cam locking mechanism with multiple fail-safe features, which resists vibration and prevents loosening. These robust and compact Manual Tool Changers can handle payloads up to 80 pounds (36 kg) and pass pneumatics and electrical signals.