Full of tech features and operated through a controller or personal mobile device app, the unmanned underwater device w/ built-in GPS can maneuver nearly anywhere, with a depth of 200 feet, using advanced bionics technology.
Robosea is pleased to announce the launch of BIKI, a new unmanned underwater vehicle (UUV) designed with advanced bionics technology, today on Kickstarter.

BIKI is the worlds first bionics unmanned underwater drone that can easily be controlled with a physical controller or app on your mobile device.
Robosea has implemented an advanced bionics technology into BIKI that they previously invented and developed for the first underwater robot with dual reconfigurable tail fin. This was used to operate in Antarctic Regions, where the underwater robot played a significant role in the anthropic exploration into unknown territory.
BIKIs bionic design minimizes the volume and weight thats 30 percent more efficient than other UUVs on the market today and includes an infrared positioning sensor, allowing the drone, which resembles a fish, to avoid obstacles automatically and adapt to different complex environments intelligently.
"BIKI can maneuver just about anywhere, and with the use of our trademarked exclusive Robosea Algorithm and set in IMU (inertial measurement unit), it can keep its balance in the water - allowing BIKI self-stabilization to provide smooth videos and sharp photos through its camera platform," said Dr. Minglei Xiong, CEO of Robosea.
4k video and pictures captured can easily be shared via live transmission to personal mobile devices and social media. In the case of a lost connection, a built-in GPS module makes BIKI automatically return to base or send real-time locations to mobile devices.
"You can also design your own routes for BIKI and, if transmission is somehow lost, it will automatically return to base - all the while sending its real-time location to your mobile device," added Xiong. "In addition to 4K UHD video, BIKI also supports 16-megapixel photography at 30 fps that offers the best view from underwater - even when operating at high-speed motion or in darkness."
BIKI operates for up to 90-120 minutes on a single charge, and can operate at depths of nearly 200 feet.
BIKI features include:
Advanced Bionics Tech
With bionic design, BIKI UUV minimizes the volume and weight, and increases the efficiency by 30%.
Able to get into everywhere.
Automated Balance
Principle: IMU (inertial measurement unit) and exclusive algorithm ROBOSEA™.
Result: keep balance in the water.
Automated Obstacle Avoidance
Principle: infrared positioning sensor.
Result: adapt to complex environment intelligently.
Automated Return to Base
Principle: built-in GPS module.
Result: automatically return to base and send real-time location to your mobile devices.
4K ultra-high definition (UHD) resolution of 3840 pixels × 2160 lines (8.3 megapixels, aspect ratio 16:9)
Compact size (weight of 2.4 pounds, 10.47-inch length, 4.17-inch Width and 5.83-inch height)
Durable open shell
IMU (inertial measurement unit)
ROBOSEA algorithm
Underwater suspension
1.12 mph fishtail-driven design
196-foot maximum depth
55db ultra silent
150° Wide-Angle Lens
32 GB Internal Memory
2*114 Lumen Lights
Wireless control and transmission
Route customization
90-120 minutes of video shooting
BIKI also applies the technology of ABS crashworthiness and resistance-to-weathering, so no matter what difference in temperature from 32-158°F (0 to 70°C), corrosive offshore environments, or under long-term sunlight, BIKI will always remain in perfect condition.
For more information or to purchase BIKI at an early-bird discount during crowdfunding, visit the BIKI Kickstarter Campaign page.
About Robosea
Boya Gongdao (Beijing) Robot Technology Co., Ltd. (Robosea) is an entrepreneurial technology company focusing on highly-precise technology development, which mainly engages in R&D of underwater robot and automation equipment, as well as robotic technology training and service. Existing self-developed products include: underwater unmanned aerial vehicle, biomimetic robot fish, water quality monitoring and pollution regulating robots, etc. The founder of the company is Dr. Xiong Minglei from intelligent control room of engineering Institute of Peking University, who develop industry-university-research cooperation with a R&D team consisting of doctors and masters.
About BIKI
BIKI-underwater photography robotic fish adopted advanced artificial intelligence technology and wireless underwater communication system, realizing wireless control on robotic fish under water and breaking the barriers of cable controlling robot under the eater. It creates an extremely good user experience for swimming, diving and underwater photography fans who can carry out real-time control on movement of the robotic fish, capturing wonderful underwater moments freely. For updates on its latest unmanned underwater vehicle, BIKI, visit mybiki.com.
Featured Product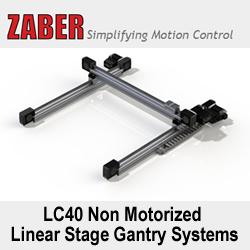 Zaber's X-LRQ-DE Series of linear stages have high stiffness, load, and lifetime capabilities in a compact size. The integrated linear encoder combined with stage calibration provides high accuracy positioning over the full travel of the device. At 36 mm high, these stages are excellent for applications where a low profile is required. The X-LRQ-DE's innovative design allows speeds up to 205 mm/s and loads up to 100 kg. Like all Zaber products, the X-LRQ-DE Series is designed for easy set-up and operation.