The UKs longest running robotics company expands to open an office in Spain
The Shadow Robot Company are delighted to announce that they have just opened a new office in Madrid, Spain, as part of an expansion programme to accommodate the greater demand for their technology. Shadow have embedded themselves in the robotics industry as the go-to team for robotic hands and graspers. They have experienced a vast amount of growth over the last two years, which has led to increases in staff, and a second UK-based office opening in Bristols Future Space last year.
Shadow have identified many opportunities to expand overseas and see the new office as a natural addition to their London home. Shadows Head Office and core R&D team will remain in London, whilst the bulk of production is decentralised and will be based in Spain. Walker continues 'The timing seems right to strengthen our position worldwide, especially in Europe. Of course were proud to be a British company, but were just as proud to be a European organisation too. Many of our staff are from all over Europe, and were involved with many EU projects and collaborations - so having a second base in Europe is vital for us, and we see our new Madrid office as an organic progression. Were also keen to further develop our links with the Spanish-speaking world, and Madrid seemed like the perfect location in which to do so.
The new office, which will be managed by Juan LaForga (Shadows Head of Production), is in the heart of Madrid on the Carrera de San Jeronimo. LaForga said 'Such a central location is a benefit for both staff and clients visiting the company. This area is beautiful and bustling with activity, it feels good to be located here. And on a personal level, I get to open an office for my favourite company in my hometown - Im very lucky! Shadow have also appointed a Logistics Manager, Sherrine Ricketts, to ensure cohesion between all of the sites.
Madrid is home to an exciting project named RoboCity 2030, which is the biggest, long-term robotics cluster in Europe. The consortium promotes robotics science and technologies; bearing this is in mind, it seems like perfect timing to open an office there.
Walker continues 'The support that the UK government have given to the robotics and technology sector has been incredible. Its brought consistent growth to our company and has enabled us to have a stronger reach globally; therefore its become a necessity for us to open an international office. Although it doesnt matter how many offices we have around the world, well always be working to advance the UK Robotics Agenda. We see this new office as cementing our status as a growing company; its a breakthrough moment for us.
About the Shadow Robot Company: Shadow are currently exhibiting at the eminent International Conference on Robotics and Automation (#ICRA2017), a six day conference, this year being held in Singapore.
Shadow was founded in 1987 by a group of robotics enthusiasts in North London. Since then the group evolved into one of the longest running robotics companies in the UK. Shadow has been developing robotics technologies and using them to solve problems since its inception.
For the last ten years, Shadow has delivered exciting engineering projects for clients with outstanding work in Mechanical, Electronic, Software and Pneumatic Engineering. Our collaborations range from theatre projects with Leeds University and Museum Animatronics, to working with both NASA and ESA (European Space Agency) and universities throughout the world. Two recent projects include the award-winning TV program 'How to Build a Bionic Man ('The Incredible Bionic Man in the US) and the development of the ground-breaking Moley Robotic Kitchen.
Shadow is currently applying robotic manipulation technologies to a range of areas, from research robot hands through to applications in marine, logistics and agriculture. For more information, visit www.shadowrobot.com.
Featured Product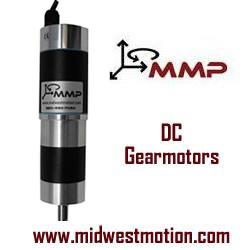 Midwest Motion Products, Inc. (MMP), is a well-established, healthy, & growing Family Owned Business, founded in 2001. MMP specializes in cost-effective standard DC Gearmotors, Motors, Controls, and ancillary equipment. Known world-wide for our "Lightning Fast" delivery capabilities, you can have a Standard Planetary or Right Angled DC Gearmotor BUILT and SHIPPED, often on the very same day you call. Offering Brushed and Brushless designs, with winding voltages ranging from 12 VDC to 120 VDC, we can deliver your "Robust & Reliable" samples within HOURS, instead of weeks, or even months.