Undertook export consultation worth about 10.7 million dollars during 3 days participating as Team Robot Korea
DAEGU, South Korea--(BUSINESS WIRE)--7 representative companies in the Korean robot industry participated in 'INNOROBO 2017', held at the Dock de Paris Exhibition Center in France from May 16th to 18th, 2017, as 'Team Robot Korea', which is supervised by KIRIA (Korea Institute for Robot Industry Advancement). Team Robot Korea made a great achievement through export consultation for 319 cases worth 10.7 million dollars during the 3 days.

INNOROBO, Europe's leading exhibition related to robot, is held every May in France. As such, it is a prestige exhibition where technological changes in the robot industry can be understood all at once and tailor-made marketing is possible through the latest trends and upgraded technology of robot products.
In 'INNOROBO 2017', amid large participation of companies and buyers from China and the Middle East, starting with the whole Europe region, Korean robot companies participated as 'Team Robot Korea' through an independent booth. The joint Korean booth broke the existing concept of small scale, individual booths for Korean companies. The Korean booth has attracted the most visitors and received high attention from the local media and buyers. In particular, France 3, France's public television station, proposed to visit Korea in July-August and produce a documentary on the education site related to Korean robot industry and robot related companies.
The 7 companies including Fine robotics, Airo, IPL, Jini, 3S Solution, 3.14, Robo Divine that participated in the Korean booth introduced original and matchless products and actively undertook consultation on sample requests and product purchase for buyers.
The cleaning robot of Fine robotics received an application for exclusive dealership locally in France, and it consulted on new product sales with large distributors and mart officials, and even achieved actual sample sales. Furthermore, Airo that developed a fish robot for watching enjoyment received proposals from a variety of buyers from the Netherlands and surrounding European countries, France, and UK, for product distribution and exhibition.
IPL introduced ijini, a small Ai-based home social robot that has price competitiveness. The company received a proposal for joint development in the future as a part of the elderly Home Automation business from B company, France's largest insurer. An executive from E company, a leading Dubai telecom company, directly visited and showed strong intention to sell the Jini product in Dubai along with a proposal to open a special stage in Gitex, Dubai's leading mobile show, for Jini, which developed the ICT-based payment device and system to improve the sales management environment for sellers. In addition, local meeting in Dubai has been promised in July.
Together, 3S Solution, which provided a weather observing drone to the Korea Meteorological Administration, introduced to the French government officials a drone that can measure environmental pollution and fine dust, attracting considerable interest, along with negotiation on detailed quotation for 1000 toy drones that were entered in the exhibition.
Other than this, buyers even from the eastern Europe region such as Slovakia, in addition to those from France and Europe expressed active intention to purchase the 3.14's robot for educational use that can be combined with paper characters without limitations. Robo Divine, the only start-up company, which participated in this event, introduced a robot for education that enables its users to easily compose music by using a music coding system. Currently, product development has been completed and the first finished product will be launched in September. Prior to its launch, in-depth consultation including a consultation on an exclusive agreement has been conducted for many buyers, such as J company, a Dutch company that develops a coding education program, and G company, France's largest robot dealer.
KIRIA President, Kihan Park said that "this INNOROBO 2017 provided a satisfying opportunity for Korean robot companies to enter into the global robot market, and to develop the European market ". He said "there are expectations for expansion of the export market in the entire European region, including France, through continued exchange going forward".
Meanwhile, KIRIA is planning to undertake market development and international cooperation business for Korean robot companies through export consultation and exhibition in China (June-July), Russia (July) and Vietnam (November) in the future.
Featured Product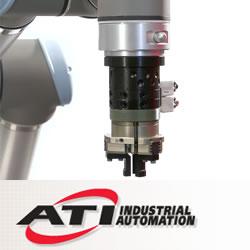 ATI Industrial Automation's MC-10 Manual Tool Changer provides a cost-effective solution for quickly changing tools by hand. Its compact yet robust design is optimized for collaborative robot applications. The ergonomic twist-collar locking mechanism ensures a secure attachment of the tool and easy manual operation with tactile feedback. This Manual Tool Changer can carry payloads of up to 22 lbs and includes multiple fail-safe features that resist vibration and prevent loosening. The MC-10 Manual Tool Changer has integrated air pass-through connections and options to connect electrical utilities if needed. ATI will feature the new MC-10 along with a variety of other robotic demonstrations and product displays at this year's IMTS show in Chicago (Booth #236417).