The Silicon Valley Robotics Startup Provides Solutions to a Leading Sports Apparel Company and Parcel Delivery Service
SUNNYVALE, Calif., May 31, 2017 /PRNewswire/ -- Grabit, Inc., an automation systems provider to the manufacturing and warehouse logistics industries has shipped multiple units of its material handling robot, Stackit™, to an industry leading athletic shoe and apparel company. Grabit also shipped multiple units of Meterit™, its intelligent conveyor system, to a global leader in express package delivery services. To date, Grabit has secured $25M in financing from investors and strategic partners. This funding is being applied to develop flexible robotic automation solutions that leverage Grabit's electroadhesion technology and machine learning software to provide up to 20x productivity improvement for its customers' operations. This strategy has accelerated Grabit's progress in transforming the material handling industry.

Grabit's proprietary electroadhesion technology enables material handling where traditional robotics solutions have struggled or failed. Electroadhesion channels the same static cling that makes a balloon stick to hair and uses it to automate the handling of virtually any material.
Grabit's suite of products currently includes:
Stackit™, an automated material stacking robot for apparel manufacturing
Meterit™, an automated material flow control for gravity fed conveyance in the logistics industry
Conveyit™, an electroadhesion enabled conveyor belt for the logistics industry
Many industries such as apparel manufacturing are still in the early stages of automation. The reason is the majority of work that goes into manufacturing and warehouse logistics is material handling -- which is traditionally expensive, labor intensive and extremely difficult to automate. Grabit solves material handling challenges with electroadhesion and machine learning. According to Transparency Market Research, the industrial automation market is over $200B globally and expected to double by 2024. Grabit is poised to capitalize on the opportunity.
"Grabit's electroadhesion technology has the finesse to handle something as fragile as an egg, flimsy as a piece of fabric, and as unwieldy as a 50lb box. This flexibility empowers entirely new possibilities in automation," said Greg Miller, President and CEO of Grabit, Inc.
Grabit recently shipped its auto-layering robot, Stackit, to a leading shoe factory for use in athletic footwear manufacturing. Stackit automatically stacks various materials such as leathers, meshes, and composite fibers, and leverages machine learning software to continuously monitor and improve performance.
Grabit also shipped its Meterit system to a warehouse hub of one of the largest multinational courier delivery service companies. Meterit infuses existing gravity-fed load lanes with an electroadhesion-based IoT device and controls the flow of packages down the conveyors to maximize truck loading efficiency. Meterit also monitors package flow enabling continuous data collection and more efficient labor deployment.
About Grabit, Inc.
Grabit is a robotic and machine learning company leveraging proprietary electroadhesion technology to revolutionize manufacturing and warehouse logistics. Grabit's principal founder is Harsha Prahlad, Ph.D., Chief Technology & Products Officer, the primary inventor of electroadhesion technology and an innovator in the robotics industry. Grabit's current investors include Formation 8, Draper Nexus, Danhua Capital, Nike, Samsung, Brother Industries, ABB, Shanghai Electric, Flex, NTT Docomo and the Esquel Group.
For more information about Grabit, visit www.grabitinc.com
Featured Product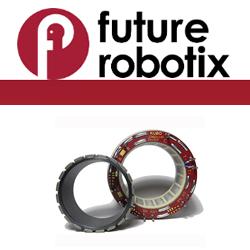 Less expensive direct replacements for RoboDrive motor kits with higher torque density, hollow shaft, low power-to-weight ratio, highest dynamics, exact linearity, low cogging torque. Available in sizes 38mm - 170mm. Available today at futurerobotix.com