Military intelligence event, Airborne ISR will return to London this October
Taking place in Central London on the 25th and 26th October, Airborne ISR 2017 returns to further explore the tactics and technologies at the forefront of ISR operations. With presentations and focused panel discussions providing updates on: Future capability development, ISR operations, ISR training and personnel development, NATO joint ISR and more.

A past attendee list has been uploaded on the conference website to give prospective delegates the chance to see who they can expect to meet and network with this October. 2015-2016 attendees included over 45 leading military organisations, including: BAE Systems, DSTL, French Air Force, General Atomics Systems Integration, Harris Corporation, Leonardo, Niteworks, RAF, Raytheon, Royal Netherlands Air Force, Saab AB, Safran Electronics & Defense, Saudia Arabia MoD, Spanish Air Force, United States Air Force and more.
Visit the download centre to view the full list of past attendees by organisation, job title and country: http://www.airborne-isr.net/robotpr
Reasons to attend Airborne ISR 2017:
1. Hear from those at the forefront of Airborne ISR operations and capability, including the United States Air Force, Royal Air Force, Joint Forces Command UK, French Air Force and German MoD
2. Gain an update on the development of NATOs key joint ISR platforms, including the Allied Ground Surveillance programme and AWACS
3. Explore future research and development in the ISR space, with perspectives from the DSTL, Fraunhofer, ONERA and TNO
4. Deliberate the potential for multi-source data to contribute to the single intelligence picture at the pre-conference workshop on: 'Every Platform a Sensor Led by British experts in defence, aerospace and security; QinetiQ.
The full event agenda is also available on the event website.
A special rate of £899 is available to government and acting military personnel. With this biggest early bird discount, still available; register by the 30th June to save a further £200.
Airborne ISR 2017
25-26 October
London, United Kingdom
---- END ----
Proudly sponsored by Galleon Embedded Computing, for information on exhibiting and branding packages available, contact Sadia Malick on +44 (0) 20 7827 6748 or email smalick@smi-online.co.uk
To register online, visit: http://www.airborne-isr.net/robotpr
About SMi Group:
Established since 1993, the SMi Group is a global event-production company that specializes in Business-to-Business Conferences, Workshops, Masterclasses and online Communities. We create and deliver events in the Defence, Security, Energy, Utilities, Finance and Pharmaceutical industries. We pride ourselves on having access to the world's most forward-thinking opinion leaders and visionaries, allowing us to bring our communities together to Learn, Engage, Share and Network. More information can be found at http://www.smi-online.co.uk
Featured Product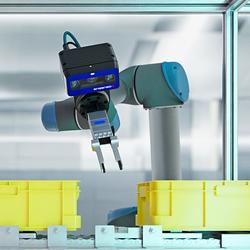 IDS NXT: a platform for a new generation of vision systems for industrial applications. It lays the groundwork to provide easy-to-use yet flexible complete systems that can be used to implement all steps of a vision solution. With IDS NXT ocean, a complete solution especially for AI-based image processing is now available. It allows to solve tasks where classic, rule-based image processing has reached its limits - without any programming effort.