The dual arm collaborative robot was a guest of ROBO Global LLC, creator of the worlds first robotics and automaton investor index series
ABBs YuMi® dual-arm, collaborative robot rang the opening bell today at the NASDAQ MarketSite Studio in Times Square in New York City to start the trading day. YuMi was a guest of ROBO Global LLC (www.ROBOGlobal.com), which offers The ROBO Global® Robotics and Automation Index Series, the worlds first benchmark index series to track the global robotics and automation market. Greg Scheu, the President of the Americas region for ABB, joined YuMi and ROBO Global executives at the podium for the ceremony.

YuMi joins a diverse and prestigious group of 2017 opening bell ringers that includes recent Indianapolis 500 winner Takuma Sato, NHL Commissioner Gary Bettman and representatives from Amazon, Cisco Systems and the Make-A-Wish Foundation.
"ABB is honored to have YuMi join with ROBO Global to ring the NASDAQ opening bell," said Scheu. "Increasingly, robotics is playing an essential role in improving industrial productivity, and the presence of YuMi represents the emergence of collaborative robots in the automation sector."
YuMi was introduced in April 2015, heralding a new era of robotic coworkers that are able to work collaboratively on the same tasks with humans while still ensuring the safety of those around it. Though it was specifically designed to meet the flexible and agile production needs of the consumer electronics industry, it has equal application in any small parts assembly and material handling environment.
"Robotics, automation and artificial intelligence are driving change in the global economy, and ABBs YuMi is emblematic of the innovation occurring to drive productivity," says Travis Briggs, U.S. CEO of ROBO Global. "Four years ago we recognized the need to measure and capture this growth and return opportunity for investors, and created the ROBO Global Robotics and Automation Index Series."
About ABB
ABB (NYSE: ABB) is a pioneering technology leader in electrification products, robotics and motion, industrial automation and power grids, serving customers in utilities, industry and transport & infrastructure globally. Continuing more than a 125-year history of innovation, ABB today is writing the future of industrial digitalization and driving the Energy and Fourth Industrial Revolutions. ABB operates in more than 100 countries with about 132,000 employees. www.abb.com
ABB Robotics is a pioneer in industrial and collaborative robots and advanced digital services. As one of the worlds leading robotics suppliers, we are active in 53 countries and over 100 locations and have shipped over 300,000 robot solutions in a diverse range of industries and applications. We help our customers to improve flexibility, efficiency, safety and reliability, while moving towards the connected and collaborative factory of the future. www.abb.com/robotics
ROBO Global is the first benchmark index to track the global robotics and automation market. The index is comprised of over 80 stocks focused on the entire robotics and automation value chain. The stocks include rapidly developing companies in the global robotics and automation industry, covering over 15 countries across our 13 sub-sectors. With offices in Dallas and London, and indices listed on multiple exchanges, ROBO Global defines and delivers the only index to target robotics and automation. www.ROBOGlobal.com
About ROBO Global LLC
ROBO Global LLC is the creator of the ROBO Global® Robotics and Automation Index series, which provides comprehensive, transparent and diversified benchmarks representing the value chain of robotics, automation and enabling technologies. With the expertise of our leadership team and strategic advisors from the industry, we help investors capture the growth and returns opportunities presented by this megatrend across the global economy. Our indices are used by a variety of investment vehicles listed on multiple exchanges around the world. We are present in Dallas, San Francisco, New York and London. www.ROBOGlobal.com
Featured Product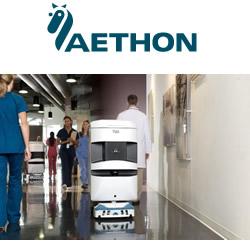 TUG automatically picks up and drops off carts, eliminating the labor that would otherwise be needed to load the robot. It also communicates with your IT system to automate the dispatching of the robot fleet and update the inventory system when materials are moved.