Plug-and-play robotics platform brings industrial automation to tasks at a fraction of the cost in less than a day
BALTIMORE, June 13, 2017 /PRNewswire/ -- Today at ATX East, READY Robotics announces the first robots-as-a-service solution tough enough to handle real industrial tasks and flexible enough to be deployed in mere hours. READY Robotics' unique combination of plug-and-play tooling and easy programming interface makes the formerly expensive and complicated task of automation achievable for all manufacturers. READY is also proud to announce its latest partnership with ASTec Metalworks, a leading manufacturer of highest quality, complex precision-machined components for the aerospace, defense, and automotive industries. ASTec picked the TaskMate due to the speed and low integration cost of deploying the system onto their factory floor.

Traditionally industrial robotics has required a lot of highly-customized integration work, with upfront costs typically running several times the cost of the robot arm itself. Even worse, with the process taking weeks, integration gobbled up precious time. The TaskMate can be deployed in a matter of hours at a fraction of the cost of traditional solutions. The real advantage of the READY Robotics TaskMate platform, though, is its flexibility. The system can be retooled in just minutes with grippers from companies such as Schunk, Piab, Schmalz, and Robotiq. It can interface with machine tools and peripherals using a multitude of interfaces, including 24-volt I/O, PLC, and TCIP/IP. The TaskMate can store tasks for later and be deployed in minutes where the need is greatest using its mobile base and READY's proprietary localization system.
In addition to its flexibility, READY Robotics is also proud to announce that the TaskMate now carries an IP54 rating, significantly increasing the number of applications in which the system can be safely and reliably deployed. The TaskMate also supports the entire line of collaborative robot arms from Universal Robots.
Based in the City Garage incubator in Baltimore, READY Robotics announced $3.75 million in seed funding last year from a syndicate led by Eniac Ventures and RRE Ventures with notable contributions from Sagamore Ventures, Emerald Development Managers and others.
See READY Robotics' TaskMate in action with interactive demos at ATX East booth #2644. Learn more about how READY Robotics can make your company more productive and agile at readyrobotics.ai
Featured Product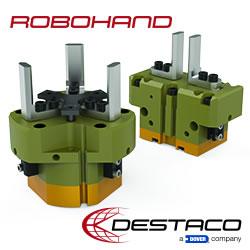 Automatically change end effector tooling quickly and easily with Destaco's Automatic Tool Changers. Designed with exceptional repeatability, high rigidity and load capacity, they are perfect for multiple tooling applications utilizing one robot. We offer different models and sizes to handle light-duty to heavy-duty applications. Our RQC/RTP Series provides a high level of flexibility with a configurable, modular design that accommodates up to four optional modular interfaces.