Stealthy Boxbot wins the Pear prize for UC Berkeley with a tech for autonomous last-mile delivery
Pear Ventures has selected Boxbot, a robotic service for last mile logistics, as the winner of its 2016-17 UC Berkeley $250k Startup Challenge. Boxbot will become part of Pears portfolio and community.

Boxbot is a robotic service that automates last mile logistics, significantly reducing delivery costs while dramatically improving the customer experience. Pear Ventures will help Boxbot accelerate growth and realize their vision.
"We are excited for this high caliber technology team and we appreciate Pear VC for its contribution to Berkeley's vibrant new venture ecosystem," said Ikhlaq Sidhu, Founder of Berkeleys Sutardja Center for Entrepreneurship & Technology (SCET).
Pear launched its annual UC Berkeley $250k Startup Challenge in 2015 on the premise, as Co-founding Managing Partner Pejman Nozad shared, that "UC Berkeley is an ocean teeming with brilliant, ambitious entrepreneurs, and many of tomorrows category defining companies will come from the other side of the bridge." "Solving really hard technical problems is part of Berkeleys DNA, and were excited to see Berkeley students and alumni solve some of the worlds hardest problems," added Co-Founding Managing Partner Mar Hershenson. As part of the Challenge, Pear will donate 10% of its equity in Boxbot back to UC Berkeley.
"The Pear Ventures Challenge helps elevate the efforts of our start-up community. We want to see more opportunities such as this that allow our students, alumni and researchers to change the world through discovery-based entrepreneurship," said Berkeley Vice Chancellor Paul Alivisatos
"Berkeley has always been a place for innovation and entrepreneurship. Over the years I have enjoyed seeing entrepreneurship become an increasingly popular path for faculty, students and staff. I am proud to be part of a new generation helping to take Berkeley entrepreneurship to the next level," said Mark Godwin, Co-Founder and CTO at Boxbot, and Berkeley alum.
About ​Pear Ventures
Pear is an early stage, SF-bay area VC focused on partnering with exceptional founders building category-defining companies. Pear invests across the spectrum from pre-seed to Series A, and has historically seeded a number of category defining companies including DoorDash, Branch Metrics, Guardant Health, and One Concern. Many of Pears portfolio companies joined the community as student teams out of top research schools.
Pear is deeply people-focused, and redefines what it means to be a portfolio company by turning founders into family. Pears Partners bring to bear years of deep operating experience, and leverage the full extent of their experience and networks to help companies succeed. Be it through sharing knowledge, resources, or working together to navigate challenges, Pear invests in its companies every step of the way.
About Boxbot
Boxbot is a robotic service that automates last mile logistics. The service significantly reduces delivery costs while dramatically improving the customer experience. Boxbot was founded in 2016 by Austin Oehlerking and Mark Godwin and is based in Oakland, CA.
Austin Oehlerking, Co-Founder and CEO, started working on electric vehicles and robotics at MIT. After graduating, he became Director of Vehicle Engineering at Arcimoto, a startup developing electric commuter vehicles in Oregon. Later, Austin joined the Tesla Motors firmware team and led projects for the Rav4 and Model S electric vehicles. He is also a graduate of Harvard Business School.
Mark Godwin, Co-Founder and CTO, has worked with drones, self-driving cars, and logistics since 2004. While pursuing a PhD in controls at UC Berkeley, Mark built drones for the Office of Naval Research and competed in the DARPA Urban Grand Challenge. After graduation, Mark founded a startup to make transportation networks more efficient with machine learning algorithms before joining Uber in 2014.
Featured Product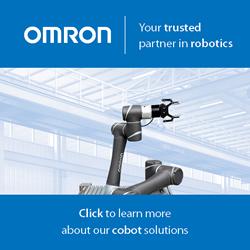 Humans and robots can now share tasks - and this new partnership is on the verge of revolutionizing the production line. Today's drivers like data-driven services, decreasing product lifetimes and the need for product differentiation are putting flexibility paramount, and no technology is better suited to meet these needs than the Omron TM Series Collaborative Robot. With force feedback, collision detection technology and an intuitive, hand-guided teaching mechanism, the TM Series cobot is designed to work in immediate proximity to a human worker and is easier than ever to train on new tasks.