OCTOPUZ has launched a new employee development program for Applications Engineers, aimed at developing technical hands-on skills for new employees.
OCTOPUZ Inc. has a new AE (Robotics Applications Engineer) project designed to allow each new AE employee to apply their skills they have gained through training and tutorials to a real-life example. The project is also very beneficial for co-operative education students that OCTOPUZ employs regularly from local universities like the University of Waterloo and the University of Guelph.

The project is a very important learning experience as it applies virtual theory to real-life circumstances. New hires apply their theoretical skills on robots in the OCTOPUZ Robotic Room, with brands like Fanuc, Kawasaki and KUKA making an appearance in the room.
Donovan Maudsley, a Mechanical Engineering Co-operative Education Student from the University of Waterloo recently completed his version of the project where a simple plaque with his name and title in addition to the OCTOPUZ "O" was milled with a Fanuc LR Mate 200iD. The LR Mate 200iD is a compact six-axis mini robot with the approximate size and reach of a human arm. It is also the lightest mechanical unit in its class, which enables it to be a flexible teaching tool for educational purposes.
All of the sides of Donovans plaque were curved in multiple directions, making it a difficult project to machine by hand. The toolpaths were programmed in MasterCam 2017, and combined were about 23,000 points long. He says that "getting to use an actual machine was very rewarding. It was my first time ever machining something on a robot rather than a CNC machine. Working at OCTOPUZ Ive been taught about the strengths and weaknesses of robots machining, and getting to see these in action was great."
"OCTOPUZ is very much a learning environment, and I feel my opinions and input are valued similarly to the rest of my team. The work I have completed at OCTOPUZ has always been interesting, and I learn a lot each and every day that I am here." Donovan Maudsley
To learn more about working at OCTOPUZ or to apply for a position, please visit our careers page to at http://octopuz.com/careers/ or send a resume to careers@octopuz.com.
Featured Product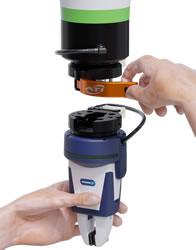 Simpler, stronger, and more precise. ATI Industrial Automation has developed a series of Manual Tool Changers that provides a cost-effective solution for quickly changing tools by hand. They feature a unique design that combines high strength, excellent repeatability, and a patent-pending screw-cam locking mechanism with multiple fail-safe features, which resists vibration and prevents loosening. These robust and compact Manual Tool Changers can handle payloads up to 80 pounds (36 kg) and pass pneumatics and electrical signals.