Grabit's proprietary electroadhesion technology enables material handling where traditional robotics solutions have struggled or failed.
SUNNYVALE, June 15, 2017 /PRNewswire/ -- Grabit Inc., an automation systems provider to the manufacturing and warehouse logistics industries, has been selected as a winner of the Red Herring's Top 100 North America award. Winning companies were selected from thousands of prospective startups and tech firms that represent the cutting edge of North America's world-class technology industry. Their place among North America's tech elite was chosen by Red Herring's editorial team, during a months-long process that takes into account criteria including disruptive impact, proof of concept, financial performance, market footprint and quality of management.

"Grabit is honored to be chosen as a winner of the Red Herring Top 100 North America," said Greg Miller, President & CEO at Grabit Inc. "We are proud to be recognized as a disruptive company that is transforming the manufacturing and warehouse logistics industries by providing new possibilities in automation."
Grabit's proprietary electroadhesion technology enables material handling where traditional robotics solutions have struggled or failed. Electroadhesion channels the same static cling that makes a balloon stick to hair and uses it to automate the handling of virtually any material. Grabit solves material handling challenges with electroadhesion and machine learning. Current products include:
Stackit™, an automated material stacking robot for apparel manufacturing
Meterit™, an automated material flow control for gravity fed conveyance in the logistics industry
Conveyit™, an electroadhesion enabled conveyor belt for the logistics industry
The Red Herring Top 100 North America has become not only a springboard for some of tech's biggest names, but a valued and trusted tool for venture capitalists, experts and analysts predicting trends at the industry's sharpest edge.
"This is one of the most innovative and exciting groups of companies we've ever hosted at a Top 100 awards show," said Alex Vieux, chairman of Red Herring. "It's always a pleasure to come to California and see the cream of North America's tech crop. Grabit fully deserves its place among our award recipients, and I have every confidence they will make a significant impact in the world."
All finalists were invited to present their strategies at the recent Red Herring Top 100 North America conference in Los Angeles, June 12 - 14, 2017. The Top 100 winners were announced at a special awards ceremony on the evening of June 14 at the event.
About Grabit, Inc.
Grabit is a robotic and machine learning company leveraging proprietary electroadhesion technology to revolutionize manufacturing and warehouse logistics. Grabit's principal founder is Harsha Prahlad, Ph.D., Chief Technology & Products Officer, the primary inventor of electroadhesion technology and an innovator in the robotics industry. Grabit's current investors include Formation 8, Draper Nexus, Danhua Capital, Nike, Samsung, Brother Industries, ABB, Shanghai Electric, Flex, NTT Docomo and the Esquel Group.
For more information about Grabit, visit www.grabitinc.com
About Red Herring:
Red Herring is a global media company which unites the world's best high technology innovators, venture investors and business decision makers in a variety of forums: a leading innovation magazine, an online daily technology news service, technology newsletters and major events for technology leaders around the globe. Red Herring provides an insider's access to the global innovation economy, featuring unparalleled insights on the emerging technologies driving the economy.
Featured Product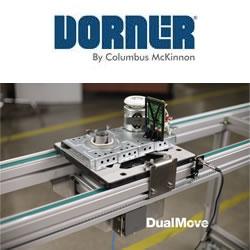 Dorner's 2200 Series Precision Move Pallet Systems are ideal for assembly automation. With features such as an innovative timing belt conveyor design and industry best pallet transfers, they get your product to the exact location, at the exact time and in the exact position it needs to be. They are now available with new options such as heavy load corner modules with 150 lb. capacity and 180 degree tight transfer corners for compact loops.