Four US Military Experts will present in London at Airborne ISR 2017
"The US Air Force (USAF) is keeping the U-2 Dragon Lady manned high-altitude intelligence, surveillance, and reconnaissance (ISR) aircraft after years of attempting to retire it, according to a key officer.

Major General Jim Martin, USAF deputy assistant secretary for budget, told reporters 23 May at the Pentagon the service plans to keep the U-2 well into the future."
For those wanting to learn more, SMi Group is pleased to announce, the US Air Force will be back this October in full force, discussing their future capability developments, operations and training at Airborne ISR 2017. Speakers include:
• Brigadier General Peter Lambert, Director of Intelligence, Headquarters Air Combat Command, United States Air Force
Presenting: Coordinating Aerial Intelligence Doctrine and Architecture in Support of Shifting Operational Requirements
• Mr Ronald Haygood, Deputy Director, Intelligence & Operations, 25th Air Force, United States Air Force
Presenting: 25th Air Force Plans for the Support of Tactical Warfighting and National-Level ISR Operations
• Mr Darren Studer, Deputy Chief, J2 Operations, United States European Command
Presenting: Planning for ISR Operations in a Networked Environment: Key Requirements for the Improvement to Network-Generated Situational Awareness
• Colonel Houston Cantwell, Commander, 49th Wing, United States Air Force
Presenting: Training U.S. MQ-9 Aircrew - An Evolution
Other nations represented include: Belgian Air Force, DSTL, Federal Office of Bundeswehr Equipment and Information Technology, Fraunhofer FKIE, French Air Force, Level 7 Expertise, NATO, NATO AEW&C Programme Management Agency, New Zealand Defence Force, Norwegian Air Force, ONERA, Royal Air Force, TNO and more.
The full event agenda is available at http://www.airborne-isr.net/roboticstomorrowpr
Plus, SMi Group welcomes back, Galleon Embedded Computing; return sponsors of Airborne ISR. Galleon Embedded Computing is an innovative leader in development of high-performance airborne computer and recorder products. Our product range includes rugged storage and data recorder systems, servers and NAS / networked devices all including removable storage, as well as rugged XMC IO modules.
For further information, please visit the website.
A special rate of £899 is available to government and acting military personnel. With an early bird discount, still available: register by the 30th June to save a further £200.
Airborne ISR 2017
25-26 October
London, United Kingdom
Source: IHS Janes May 2017: http://bit.ly/2qZmB28
---- END ----
To register online, visit: http://www.airborne-isr.net/roboticstomorrowpr
For information on exhibiting, advertising and branding packages, contact Sadia Malick on +44 (0) 20 7827 6748 or email smalick@smi-online.co.uk
About SMi Group:
Established since 1993, the SMi Group is a global event-production company that specializes in Business-to-Business Conferences, Workshops, Masterclasses and online Communities. We create and deliver events in the Defence, Security, Energy, Utilities, Finance and Pharmaceutical industries. We pride ourselves on having access to the world's most forward-thinking opinion leaders and visionaries, allowing us to bring our communities together to Learn, Engage, Share and Network. More information can be found at http://www.smi-online.co.uk
Featured Product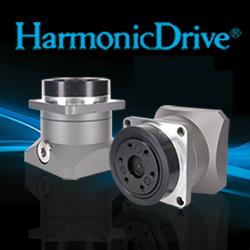 Harmonic Drive LLC, a leader in high precision motion control introduces new lightweight versions of select gearhead products. The new gearheads are ideal for designs where weight is a critical factor. Building on the success of Harmonic Drive LLCs current gear units, new lightweight versions were the next logical evolution of the CS/ SH product lines. With weight reductions of 20-30% without any reduction in torque ratings, the Lightweight (LW) gear units provide exceptional torque density.