Engineers can access PCB CAD models from the TraceParts CAD platform and download them in formats compatible with the most common PCB-design tools
Saint-Romain, France -21 June 2017 - TraceParts, one of the worlds leading providers of 3D digital content for engineering, has teamed up with SamacSys, a leading developer of software tools for creating and managing electronic component ECAD data, in order to make a wide range of electronic component models available for ECAD PCB Design.

Users will be able to download PCB Schematic Symbols & Footprints of electronic components from the TraceParts CAD platform in formats that are compatible with their design software.
What are the new electronic-design formats on the TraceParts CAD platform?
- Altium Designer
- AUTODESK EAGLE
- Cadence Allegro
- DesignSpark PCB
- Mentor PADS
- Mentor Xpedition
- Novarm DipTrace
- Pulsonix
- TARGET 3001!
- Xpedition xDX Designer
- Zuken CADSTAR
Sharing technical content with TraceParts gives Engineers access to high quality data to assist their design process. Our goal is to help Electronics Engineers design their next big idea more easily and cost effectively. This exciting new partnership expands the visibility and helps more Engineers enjoy our solution. When we look after their PCB Library needs, they can spend more time innovating.
said Alex MacDougall, Managing Director of SamacSys.
This strategic partnership brings our users and part suppliers customers more than just ECAD formats in addition to the 50+ CAD formats we already offer as free and unlimited downloads onto the TraceParts content platform. SamacSys expertise empowers our catalogs of electronics components with specific PCB metadata, footprints and schematic product information. It incredibly help electronics engineers boost their design productivity and accuracy.
adds Bertrand Cressent, Global Product Manager of TracePartsOnline.net.
About SamacSys
SamacSys is the leading developer of software tools for creating and managing electronic component ECAD data. Our mission is to provide companies with a suite of software tools and high quality content to select, manage and distribute electronic component information effectively throughout their organizations. Our customers range from individual engineers to international brands whose revenues run into billions of dollars. With thousands of customers in over in over 100 countries around the world, SamacSys is recognized as the global leader in electronic component software solutions. The company is a partner to leading brands such as RS Components, Allied Electronics, Zuken, Target3001, ON Semiconductors, ST Microelectronics and many more.
About TraceParts
TraceParts is one of the worlds leading providers of 3D digital content for engineering. As part of the Trace Group founded in 1989, the company provides powerful web-based solutions, such as CAD part libraries, electronic catalogs and product configurators. TraceParts also provides digital marketing services to help part manufacturers, software publishers and computer hardware vendors promote their products and services and generate high-quality B2B sales leads.
The TracePartsOnline.net portal is available free-of-charge to millions of CAD users worldwide. It provides access to hundreds of supplier catalogs and more than 100 million CAD models and product data-sheets that are suited to design, purchasing, manufacturing and maintenance processes.
Featured Product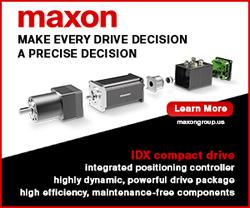 Discover the world of drive technology from a leading worldwide supplier of innovative customized drives. - Manufacturer of brushed and brushless DC motors, gearheads and motion controllers - Custom drive systems, quantities as low as a single unit - Certified for aerospace and medical applications