The revolutionary Apollo Kit now available from AutonomouStuff after Baidu announces partners for its Project Apollo autonomous driving platform.
AutonomouStuff and Baidu have joined forces to offer open, comprehensive and reliable software platforms and kits to ease and revolutionize mobility.

Baidu today announced AutonomouStuff as one of its partners for its Project Apollo autonomous driving platform. The announcement at Baidu Create, the company's first artificial intelligence developer conference, means that AutonomouStuff can now offer the innovative Apollo Kit to help drive the future of autonomy. Based on decades of experience, AutonomouStuff has put together kits comprised of four major components — the drive-by-wire vehicle platform, GPS/IMU, pre-configured computing and engineering services — to help support Apollo. Baidu's group president and COO, Qi Lu, made the announcement describing Apollo as "the Android of the car industry."
"This is a revolutionary movement that will have a major impact on the way developers utilize technology in the future," said AutonomouStuff CEO Bobby Hambrick. "Apollo is a breakthrough. What used to take decades can now be available in one single day."
The Apollo Kit begins with a drive-by-wire vehicle platform, which gives you access to steering, shifting, acceleration and braking. The second factor, GPS and IMU, support localization. An electronic control unit (ECU) that is preconfigured with the operating system and the Apollo software makes up the third component. The final piece of the puzzle is engineering services from AutonomouStuff, which pulls everything together.
"The relationship between Baidu and AutonomouStuff is going to change the industry significantly," Hambrick said. "The live automated vehicle demonstrations that the AStuff team built and showcased at Baidu's AI conference serve as a huge step forward in mobility. Pulling together some of the greatest innovators in the world, the Apollo project is going to redefine the future of transportation. This is just the beginning."
About AutonomouStuff
AutonomouStuff is proud to provide the industry's most advanced organizations with the best products, software and engineering services to enable robotics and autonomy. The top priority for the team at AutonomouStuff is customer success. Customers value the convenience of finding the most cutting-edge modular-based automation software solutions, engineering services, perception, computing, GPS and interface components in one location. For more information, visit http://www.AutonomouStuff.com.
Featured Product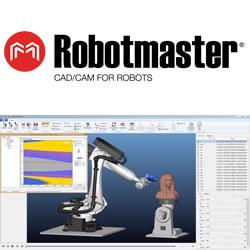 Since Robotmaster V7 uses integrated CAD/CAM functionality, for the first time, the power of Robotmaster can be used by welding, cutting and other process experts without buying or learning complex CAD/CAM software. As in past versions, Robotmaster V7 imports paths, but now makes it even easier for end users to leverage any CAD/CAM tool choice. It is an intuitive tool that anyone could use, with or without robotics expertise. It bridges the gap between robots and manufacturing by providing easy programming solutions for part manufacturing.