HKUSTand Watsonville Firefighters Seal Team 1272 take top honors at underwater robot competition at Long Beach City College
Sixty-five teams from 17 countries participated in the Marine Advanced Technology Education (MATE) Centers international underwater robotics competition. Top honors in the Explorer (advanced) class went to Hong Kong University of Science and Technology (HKUST) from Hong Kong, while Watsonville Firefighters Seal Team 1272 from Aptos, CA, captured first place in the Ranger (intermediate) class.

While HKUST has participated in the competition for several years, this is the first time they won the international event. The Watsonville Firefighters Seal Team 1272 is a first-time competitor at the international competition, although several of their students attend Aptos High School,which has a history of winning.
"The students technical skills and creativity always amaze me and surpass what I could ever imagine," said Jill Zande, president of MATE Inspiration for Innovation (MATE II) and associate director and competition coordinator for MATE Center. "Their hard work and dedication to the project and the innovations they come up with to solve the tasks are inspiring. Moreover, the teamwork, collaboration and community they create through their participation is so heartening given the world today. I know that our future technical and engineering workforce is in good hands. I look forward to their future accomplishments as they progress in their education and careers."
During the event, held June 23-25 in the Viking Aquatics pool at Long Beach City College in Long Beach, California, student teams competed using underwater robots, also known as remotely operated vehicles (ROVs), that they designed and brought to life.
This years ROV competition highlighted the role ROVs play in securing the health and safety of todays seaports. Participants were also encouraged to think about how this technology may influence the port cities of the future. During the competition, students operated their ROVs to handle tasks such as locating containers that had fallen off a cargo ship, constructing an underwater tunnel, and cleaning up contaminated sediment. Instead of piloting their ROVs in sometimes confined and precarious actual port conditions, the students worked in the safety of the Long Beach City College swimming pool.
Judges from industry, science, government, and education evaluated teams on the design, construction and performance of their ROVs; the members ability to communicate what they learned; and how they put their knowledge to use in developing the ROVs. Teams competed in either the Explorer or Ranger class depending on vehicle design and mission complexity.
Organized by MATE and supported by the Marine Technology Societys ROV Committee, this competition also received support from the National Science Foundation as well as other technology and education related organizations, including Teledyne Marine, Liquid Robotics, OpenROV, Blue Robotics, and Oceaneering International. For more information including the complete list of winners, visit http://www.marinetech.org.
Featured Product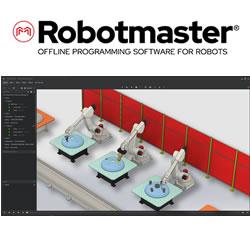 Robotmaster delivers unmatched, full-function off-line programming capability for robots - easy programming of precise robot motion control and quick generation of path trajectories of any size, with minimal programmer intervention. Our strong background in CAD/CAM (Computer Aided Manufacturing) software has enabled us to bring a revolutionary approach to programming industrial robots.