Built on 10 years of commercial experience, recent trip logs 1,000+ miles autonomously
BLACKSBURG, VA - Torc Robotics, an autonomous vehicle technology company, today announced its development of a complete self-driving system for consumer automobiles. Using Torcs end-to-end software stack and decade of multi-industry experience, the self-driving technology allows cars to make complex decisions in real-life situations.

"Were offering automotive companies a fully autonomous solution that can be implemented in real consumer cars," said Torc co-founder and Chief Executive Officer Michael Fleming. "Well also work with them to implement the technology into existing systems."
Fleming emphasized that Torc is a Level 4 company, referring to SAEs levels of automated driving. All efforts and testing are geared toward refining this level of high automation, in which human drivers and intervention are not required when the vehicle operates in specified driving situations.
Torc first established itself as a leader in automotive autonomy in 2007, when its vehicle placed third in the Defense Advanced Research Projects Agency (DARPA) Urban Challenge. While many members of the winning teams joined Googles autonomous driving project, Torc retained much of its talent.
Since then, the Torc team grew tremendously in size and continued developing the technology— applying it to a wide variety of commercial ground vehicles, from large mining trucks to military vehicles.
"We are passionate about autonomous technology and are convinced it will help make our world safer and more sustainable," Fleming said. "Weve been working on our technology for more than 10 years and we are thrilled that the auto industry is finally ready for self-driving cars. Torc can provide the engineering expertise and proven technology to make self-driving cars a reality."
The company implemented its technology on two Lexus RX vehicles. After extensive testing, the cars have been operating in a variety of weather conditions on public roads since February 2017. The system includes Torcs own solutions for localization, real-time navigation, mapping, and obstacle detecting and tracking.
In April, one of the vehicles demonstrated a long-distance drive, logging more than 1,000 autonomous miles during a round trip from Torcs headquarters in Blacksburg, Virginia, to the Ford Piquette Avenue Plant in Detroit - birthplace of the Model T.
"The automotive industry is challenged with determining what claims are hype, versus what will create real value for car manufacturers and their customers," Fleming said. "Weve got proven technology under the hood and offer it via a partnership model. Collaboration is essential for success in the transportation revolution."
According to Torc Chief Technology Officer Ben Hastings, the Torc teams advantage is its tested ability to tackle the multidisciplinary systems engineering effort required to develop fully self-driving cars.
"While a lot of startups may have interesting pieces of technology, we have a decade of experience delivering an end-to-end solution that actually works. This includes multimodal sensor fusion (vision, Radar, and LiDAR), and the use of both traditional autonomy algorithms coupled with newer machine learning techniques," Hastings said.
Torc plans to continue refining its technology over the year with continual testing and development of its system. Fleming said he is optimistic about the rapid progress of the project going forward.
"Im excited about this year," he said. "We will have some major announcements to showcase to the public."
About Torc Robotics
Torc Robotics, headquartered in Blacksburg, Virginia, provides unmanned and autonomous vehicle solutions for multiple industries, including defense, agriculture, automotive, and mining. Founded in 2005, Torc has integrated its components and systems on ground vehicles ranging from two-ton SUVs to 300-ton mining trucks—in safety-critical environments. Torc first gained notice when its vehicle was one of the three winners of the 2007 DARPA Urban Challenge. The firm also made history in 2011 when it developed a vehicle with Virginia Tech that enabled a blind person to independently drive on the Daytona International Speedway, as part of the National Institute of the Blinds Blind Driver Challenge.
Featured Product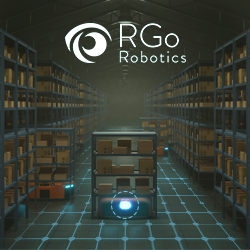 RGo's intelligent vision and AI system, Perception Engine™, provides mobile robots with 3D perception capabilities, enabling them to understand complex surroundings and operate autonomously just like humans. Its camera-based system operates is able to localize, map, and perceive in even the most robust environments including indoor/outdoor and dynamic or unstructured environments.