Robotics site addition will create new opportunities across a wider range of robotic segments
CLEVELAND--(BUSINESS WIRE)--Business-to-Business publisher, WTWH Media, LLC today announced it has acquired The Robot Report (www.TheRobotReport.com). Founded in 2008, The Robot Report gathers and reports industry news, tracks the business of robotics and has participated in the development of an index of robot industry stocks. The site also maintains a comprehensive worldwide robotics database, segmented directories and a global map of companies that are participants in the fast growing industry of robotics.

Founded by Frank Tobe in 2008, The Robot Report delivers first hand reports, features news and stories focusing on general robotics, industrial robots, robot events, FIRST, RoboCup, VEX, AI for robots, robot software, robot hacks, robot reviews, and mobile robots of all types. Additionally, it reports on space, military, industrial, agricultural, robotic consumer products and medical robot news. The well-respected news website covers stories from around the world with a focus on industry hotspots China, Japan, Korea, Europe, Israel, Canada and the U.S.
"Robotics is an increasingly important part of our economy," said Paul J. Heney, Editorial Director of WTWH Media. "The changes in our world, from the manufacturing space to consumer applications, will be stunning over the next decade. This acquisition meshes nicely with our existing technical coverage of the industrial robotics world, and gives us an opportunity to reach an even bigger audience with this critical information."
"The Robot Report along with Mr. Tobes guidance provides a platform to build out an integrated media solution in the robotics market," said Scott McCafferty, Co-Founder and Managing Partner of WTWH Media. "We will continue to invest in resources to expand audience reach and develop new marketing offerings in the robotics space."
About The Robot Report
The Robot Report has been reporting on robot news, competitions and events since 2008. Tobe is a co-founder and analyst of the popular ROBO Global™ Robotics & Automation Index, which presently includes 83 companies from 13 subsectors and captures the entire economic value of this global opportunity in robotics, automation and enabling technologies. More information at www.therobotreport.com.
About WTWH Media, LLC
WTWH Media LLC is an integrated b2b media company serving the design engineering, life sciences, electronics and renewable energy markets with more than 40 web sites, live & digital events, custom digital services and five print publications. More information at marketing.wtwhmedia.com.
Featured Product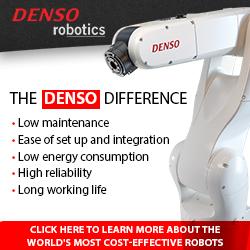 DENSO is the world's largest manufacturer - and user - of small assembly robots, employing over 17,000 of its robots in its own facilities. Over 77,000 additional DENSO robots are used by other companies worldwide. The compact, high-speed robots are used in traditional manufacturing sectors, as well as in advanced-technology applications in the medical, pharmaceutical and life sciences industries. Learn more about DENSO Robotics