Collaborative Sawyer™ robot is available to more manufacturers around the globe
BOSTON - July 18, 2017 - Rethink Robotics today announced that it has signed deals with nine distribution partners throughout the United States and Europe to extend the availability of its smart, collaborative robots. With an extensive network throughout the world - including partners in the U.S., U.K., Germany, France, Spain, China, Korea, Japan, Mexico and Australia - these distribution deals are part of Rethinks efforts to meet growing demand across the globe, bringing flexible automation to the global manufacturing market.

With the launch of the Intera 5 software platform and ClickSmart family of gripper kits earlier this year, Rethink is committed to offering best-in-class products and services to help manufacturers around the world improve productivity. Price Engineering, Rankin Automation, Triad Technologies, Stevens Engineering and SunSource join Rethinks existing suite of U.S. partners to help meet the growing demand for Sawyer in North America, while agreements with miCobot (a subsidiary of Aldakin Automation), Robots Colaborativos (a division of SGAR) and Intra Automation in Spain and Eltronic in Denmark are designed to expand coverage in critical European markets.
"The growing market demand for our smart, collaborative robots has led us to continue adding to our network of valuable distribution partners," said Scott Eckert, president and CEO, Rethink Robotics. "Both domestically, and in key markets in Europe, manufacturers have realized that a fully integrated, one-source robotic solution at an affordable price point is a necessity to compete."
Price Engineering, headquartered in Hartland, Wis., offers solutions to difficult challenges in engineering design and repair in power, motion and control technology. Broomall, Pa.-based Rankin Automation partners with manufacturers in the industry to deliver automation solutions and training to solve production issues, helping factories to fully automate assemblies. Triad Technologies is an Ohio-based distributor of hydraulic, pneumatic, electromechanical, filtration and lubrication technologies. Stevens Engineering, headquartered in Phoenix, Az., provides solutions for the design and manufacturing of workholding accessories for machine centers. Based in Illinois, SunSource offers services in hydraulics, pneumatics, filtration and automation systems for industrial and mobile equipment markets.
In Europe, the three new Spanish distribution partners are helping Rethink Robotics meet demand in a major European market. miCobot was created by Aldakin Automation with the specific purpose of distributing Rethinks Sawyer robot to the Spanish market. Robots Colaborativos, a division of SGAR, is a high-tech company that focuses on automation, 3-D printing and engineering services based in Barcelona. Founded in 1994, Intra Automation specializes in motion control and robotics, and has a well-established brand in the market. Denmark-based Eltronic is a leader in digitalization and Industry 4.0, working closely with industrial customers to deliver full-service automation solutions for production, wind and fuel tech equipment and systems.
Rethink Robotics strategic network of distribution partners is critical in delivering Sawyer to manufacturers in major markets around the world. Rethink Robotics will continue to add strategic distribution partners across the world in the coming months as market demand continues to rise.
For more information, please visit rethinkrobotics.com.
About Rethink Robotics
Rethink Robotics is transforming the way manufacturing gets done, with smart, collaborative robots able to automate the 90 percent of tasks that until now, have been beyond the reach of traditional automation. Its Baxter® and Sawyer robots, powered by the Intera software platform, adapt to real-world variability, can change applications quickly and perform tasks like people do. The result: manufacturers of all shapes, sizes and industries get the fast-to-deploy, easy-to-use and versatile automation solution they need to increase flexibility, lower cost and accelerate innovation.
Based in Boston, the Rethink product suite is available in Asia, Europe and North America. The company is funded by Bezos Expeditions, CRV, Highland Capital Partners, Sigma Partners, DFJ, GE Ventures and Goldman Sachs. For more information about Rethink Robotics, please visit www.rethinkrobotics.com and follows us on Twitter @RethinkRobotics.
Featured Product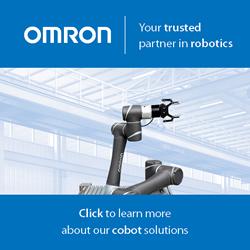 Humans and robots can now share tasks - and this new partnership is on the verge of revolutionizing the production line. Today's drivers like data-driven services, decreasing product lifetimes and the need for product differentiation are putting flexibility paramount, and no technology is better suited to meet these needs than the Omron TM Series Collaborative Robot. With force feedback, collision detection technology and an intuitive, hand-guided teaching mechanism, the TM Series cobot is designed to work in immediate proximity to a human worker and is easier than ever to train on new tasks.