BEST Robotics, Inc. brings national STEM leadership to local tech, education communities
PITTSBURGH, July 21, 2017 /PRNewswire/ -- BEST Robotics, Inc., a national nonprofit STEM and robotics educator known for annual competitions that draw more than 25,000 middle school and high school students in 17 states, is opening its executive headquarters in Pittsburgh.

Founded in 1993, the organization's mission is to develop the nation's workforce by inspiring students to pursue majors and careers in science, technology, engineering and math (STEM). BEST Robotics works closely with companies across industries to provide opportunities for students. Nearly 5,000 volunteers and mentors work with students through 45 licensed hubs.
"We're very excited to establish a headquarters here," said executive director Rosemary Mendel. "Our program will help prepare students for the growing number of STEM jobs throughout Western Pennsylvania and the Tristate region."
Mendel, a Western Pennsylvania native, said Pittsburgh's recognition as a top tech community and a top educator of STEM talent factored into the location decision. As part of its decision to locate here, she said BEST Robotics will bring a free STEM education and robotics competition to middle and high schools in the Pittsburgh region.
"BEST is committed to making STEM learning and careers accessible and inclusive, and we deliver on that commitment by making the program free to schools and students," said board president Todd Atkins. "Our focus is on expanding the program both regionally and nationally to provide access to alternative STEM education and to increase the pipeline of educated STEM professionals."
"Collaborating is an integral part of our program delivery," Mendel said. "BEST is fueled by volunteers, industry mentors, university outreach and corporate partnerships. I'm looking forward to working with local leaders to bring the program to students in our area."
Local educators active in the BEST Robotics program are excited by the decision.
"The BEST program encompasses learning beyond STEM and has had measurable impact among the students who participate," said Dr. Mike Bright, chair of the Department of Electrical and Computer Engineering at Grove City College.
"There are many individual stories of students who decided they could go to college or major in a STEM field based on their BEST participation," said Bright, a BEST board member and founder of the Wolverine BEST Hub at Grove City.
BEST Robotics students report an 88 percent increase in computer and technology aptitude because of their participation, and a 77 percent increase in their interest in STEM. Long-term tracking of student participants shows that nearly 50 percent later chose STEM-related college majors.
About BEST, Inc.
BEST Robotics, Inc. is a nonprofit organization that stands for Boosting Engineering, Science and Technology. Supported by volunteer educators, BEST provides schools with a free robotics design education program and competition with the goal of inspiring students to pursue careers in science, technology, engineering and mathematics. Each year, thousands of students from more than 850 high schools and middle schools nationwide participate in BEST Robotics regional competitions.
Featured Product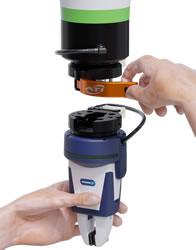 Simpler, stronger, and more precise. ATI Industrial Automation has developed a series of Manual Tool Changers that provides a cost-effective solution for quickly changing tools by hand. They feature a unique design that combines high strength, excellent repeatability, and a patent-pending screw-cam locking mechanism with multiple fail-safe features, which resists vibration and prevents loosening. These robust and compact Manual Tool Changers can handle payloads up to 80 pounds (36 kg) and pass pneumatics and electrical signals.