Professor Einstein is an amazingly expressive and playful robot who trains your brain and teaches you science.
Today Hanson Robotics announced the public availability and shipment of Professor Einstein, an amazingly expressive and playful robot who trains your brain and teaches you science. He connects to the cloud and interacts with an iPad or Android tablet to talk with users, share his passion for science, challenge the mind, and take users on a journey of fun and learning.

For a limited time while stock lasts, shoppers can order Professor Einstein for an introductory price of $249 USD. The first 100 customers will receive a limited-edition lab coat numbered from 1 to 100, with Hanson Robotics branding.
Professor Einstein was designed to inspire imagination, educate and entertain. The robot stands 14.5" tall, walks, and has over 50 realistic facial expressions. Audio direction detection and facial tracking allow Professor Einstein to maintain a high level of engagement with the user.
"Professor Einstein is our first consumer robot, and a significant first step in realizing my life-long vision of bringing affordable, highly engaging robots to every family and every individual," said Dr. David Hanson, Founder and CEO of Hanson Robotics. "It is only one of many consumer products that we are planning to introduce to the market."
The idea for Professor Einstein was born when Dr. Hanson teamed up with Andy Rifkin, a toy inventor with over 40 years experience developing award-winning interactive entertainment and educational products. They discovered they shared a lifelong fascination with Albert Einstein and wanted to create a robot that would honor his character and unique teaching style of explaining complex topics in a way that everyone could understand.
"Arguably one of the most important qualities a teacher needs is to be engaging. We captured that with Professor Einstein," said Rifkin. "He is able to explain deep concepts in an easy-to-grasp manner—through stories, jokes, and games with infinite patience until it 'clicks for users. Albert Einstein was a great teacher and we have put a lot of effort into preserving this legacy."
Professor Einstein connects to the cloud to answer questions on science facts, math, famous people, and a lot more. He interacts dynamically with an iPad or Android tablet through Stein-O-Matic, a free companion app, to teach science, play brain games. He also tracks user progress. Users can accumulate IQ points from completing tasks and playing games, which can be spent on in-game gear, and earn genius badges that display their level of achievement. New science trivia games and lessons are added regularly to the app.
"We have tried to capture the whole Einstein," continued Rifkin. "There was even more to this great man than his amazing intelligence. Einstein was a progressive thinker, creative, supportive, and quite hilarious. The robot we created reflects these qualities."
For more information and to buy Professor Einstein, please visit professoreinstein.com.
About Hanson Robotics
Founded in 2013, Hanson Robotics creates life-like robots capable of building relationships with people. The Hong Kong-based company has produced many renowned character robots (including the advanced Sophia) that have received massive media and public acclaim. The company is led by Dr. David Hanson, Founder and CEO, with the support of a world-class team of roboticists, AI experts, scientists, technologists, hardware/software engineers, and cognitive specialists.
CTO Andy Rifkin, previous Senior Vice President of Mattel Toys, has over 40 years of experience in inventing, developing and manufacturing high-volume consumer products for entertainment and education, and has shipped over $6 billion of consumer entertainment/ education products.
Featured Product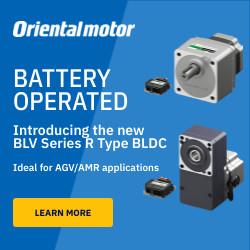 The BLE2 Series replaces our popular BLE Series and continues our brushless motor advantages by featuring an all new compact, high-power and high-efficiency brushless DC motor combined with a Driver that can be digitally set and controlled via external DC voltage or by the front panel. The BLE2 Series can easily compete with larger 3-phase inverter driven motors in many more applications, with built-in simple holding torque function, saving space and increasing performance thanks to the advantages of a brushless motor design. The BLE2 Series has a maximum speed of 4000 r/min, achieving a speed ratio of 1:50 (80 to 4000 r/min). The new motor structure is small than previous models and enables high power and high efficiency while incorporating easy setting, installation and wiring. The new motor connector offers IP66 degree of protection and allows for easy and direct connection between motor and driver with two available orientation of cable outlet direction. Standardized use of stain