-- RE2 receives $1.3 Million to support UCLA research efforts --
PITTSBURGH, PA - August 1, 2017 - RE2 Robotics announced today that the Company was selected by Dr. Veronica J. Santos, Associate Professor of Mechanical and Aerospace Engineering at the University of California, Los Angeles (UCLA) and Director of the UCLA Biomechatronics Laboratory, to provide an enhanced Highly Dexterous Manipulation System (HDMS) and integration services for her laboratorys haptics research. RE2 received $1.3 Million for their technology and services.

Dr. Santos was awarded a Defense University Research Instrumentation Program (DURIP) grant from the U.S. Department of Defenses Office of Naval Research titled, "Field deployable, bimanual mobile manipulator system for research on haptics-enabled dexterous manipulation" to procure RE2s HDMS robot. RE2 will also provide software services, including the development of a ROS-JAUS translator, in support of Santos program.
"Our team is excited to work with the next-generation manipulation system to be provided by RE2. The platform will be invaluable to our efforts to develop multisensory driven, bimanual manipulation capabilities on par with those of humans, and to support and safeguard our nation's servicemen," stated Dr. Santos.
"The goal of UCLAs research is to develop haptics-enabled capabilities for teleoperated mobile manipulation robots that support human-in-the-loop explosive ordnance disposal missions, whether on the ground or underwater," stated Jorgen Pedersen, president and CEO of RE2 Robotics. "Our HDMS technology will provide Dr. Santos and her researchers with human-like manipulation capabilities to perform such complex tasks."
###
About RE2 Robotics
RE2 Robotics develops mobile robotic technologies that enable robot users to remotely interact with their world from a safe distance -- whether on the ground, in the air, or underwater. RE2 creates interoperable robotic manipulator arms with human-like performance, intuitive human robot interfaces, and advanced autonomy software for mobile robotics. For more information, please visit www.resquared.com or call 412.681.6382.
Featured Product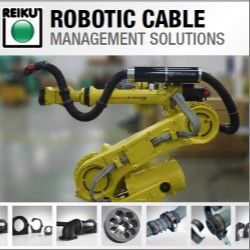 REIKU's Cable Saver™ Solution eliminates downtime, loss of revenue, expensive cable and hose replacement costs, maintenance labor costs. It's available in three sizes 36, 52 and 70 mm. All of the robots cables and hoses are protected when routed through the Cable Saver™ corrugated tubing.The Cable Saver™ uses a spring retraction system housed inside the Energy Tube™ to keep this service loop out of harms way in safe location at the rear of the Robot when not required. The Cable Saver™ is a COMPLETE solution for any make or model of robot. It installs quickly-on either side of the robot and has been tested to resist over 15 million repetitive cycles. REIKU is committed to providing the most modular, effective options for ensuring your robotic components operate without downtime due to cable management. www.CableSaver.com