Companies launching pilot program to test new ways of improving urban delivery
Today, Marble -- the maker of autonomous ground-delivery robots -- is announcing a partnership with DoorDash -- an on-demand delivery platform operating in more than 500 cities nationwide -- to begin testing deliveries under a pilot program in the San Francisco Bay Area. Under the pilot program, DoorDash will be using Marbles robots to deliver customer orders in select neighborhoods.

"Were thrilled to be partnering with DoorDash as we continue to build towards the city of the future, a city in which on-demand delivery is accessible to everyone," said Marble CEO Matt Delaney. "DoorDash has a strong reputation for top-tier restaurant partnerships and innovative logistics technology. Were excited to have our robots work with them to expand options for delivery and reduce urban congestion across communities to create a more enjoyable neighborhood experience."
The pilot program will allow Marble and DoorDash to explore how to best optimize last-mile deliveries in a variety of Bay Area neighborhoods and with the diverse businesses currently on the DoorDash platform. Beginning today, select DoorDash customers may be assigned one of Marbles friendly neighborhood robots to deliver their order.
"Marble has quickly established itself as an innovative thinker in the autonomous delivery space," said Stanley Tang, co-founder and Chief Product Officer at DoorDash. "This partnership expands upon our existing tests of new types of delivery technology, including robots, drones and electric bikes. Were excited to begin working with Marble to make deliveries faster, easier, and more efficient."
To celebrate the Marble-DoorDash partnership and initial pilot program, the companies partnered with restaurant chain Jack in the Box in early August to test out a delivery in the North Beach neighborhood and showcase the partnership. This delivery demo expands upon the ongoing relationship between Jack in the Box and DoorDash, which recently increased Jack in the Boxs delivery options to more than 830 restaurants across 229 US cities. To learn more about the delivery and see the custom Marble Robot in action, go here.
About Marble:
Marble is a San Francisco-based startup seeking to re-engineer urban logistics by utilizing autonomous robots for neighborhood delivery. The company was founded in 2015. For more information, please visit http://www.marble.io/.
About DoorDash:
DoorDash is a technology company that connects customers with their favorite local and national businesses in more than 500 cities across the United States and Canada. Founded in the summer of 2013, DoorDash empowers merchants to grow their businesses by offering on-demand delivery, data-driven insights, and better in-store efficiency, providing delightful experiences from door to door. By building the last mile delivery infrastructure for local cities, DoorDash is bringing communities closer, one doorstep at a time. Read more on the DoorDash blog or at http://www.doordash.com.
Featured Product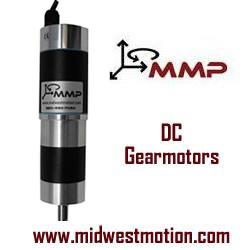 Midwest Motion Products, Inc. (MMP), is a well-established, healthy, & growing Family Owned Business, founded in 2001. MMP specializes in cost-effective standard DC Gearmotors, Motors, Controls, and ancillary equipment. Known world-wide for our "Lightning Fast" delivery capabilities, you can have a Standard Planetary or Right Angled DC Gearmotor BUILT and SHIPPED, often on the very same day you call. Offering Brushed and Brushless designs, with winding voltages ranging from 12 VDC to 120 VDC, we can deliver your "Robust & Reliable" samples within HOURS, instead of weeks, or even months.