The new concrete 7th axis is inexpensive and sustainable and minimizes vibrations.
The new concrete 7th axis is inexpensive and sustainable and minimizes vibrations.

Buildings and bridges made of concrete revolutionized the construction industry: Instead of using expensive metal, cost-effective concrete is used, which is also sustainable and torsionally rigid and minimizes vibrations. As a result, the innovative robot specialist IPR - Intelligente Peripherien für Roboter GmbH has launched a world first with a concrete 7th axis.
IPR has developed a new robotic 7th axis that has its entire structure made of concrete instead of the conventional steel or aluminum. This reduces the costs of production and also has a positive impact on quality and the environment. Concrete in contrast to metal leaves a much smaller CO2 footprint and reduces vibrations and oscillations in the component. Another advantage offered by concrete is its torsional rigidity, this means the dynamic movements of a robot leads to a reduced flexing in the 7th axis.
However, there are also steel components in the new 7th axis. An example of this is the guide rails that ensure a high level of repeatability and positioning accuracy through thanks to their special hardening and finish.
IPR — manufacturer of grippers, tool changers, joining and compensation modules, rotation modules for collision protection and 7th axes made of aluminum and steel — has developed a completely new category in this product segment with its concrete 7th axis. Initially, the new 7th axis will be available with payloads of 600 kg, 800 kg and 1600 kg. A patent application for the new concrete 7th axis is submitted.
Featured Product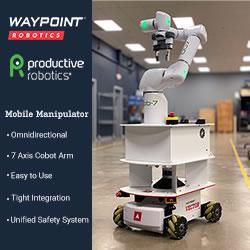 Waypoint Robotics/Productive Robotics omnidirectional 7 DoF mobile manipulator combines the easiest to use, most capable omnidirectional autonomous mobile robot with the simplest and most flexible 7 axis collaborative robot arm. The Vector AMR's omnidirectional mobility enables fast, precise docking in any direction or orientation so the OB7 can perform accurate and precise grasping or picking tasks, taking full advantage of the cobots' 7 degrees of freedom (7 DoF) and superior dexterity. It can be powered using Waypoint's EnZone wireless charger that provides on-demand energy and opportunity charging for longer run times. Workers can use this mobile platform to perform repetitive tasks such as machine tending, quality assurance sampling, material replenishment, packaging, and many others, so they can focus on the high skilled jobs for which they are uniquely qualified. It has never been easier or more cost effective to deploy a mobile manipulator for manufacturing and logistics applications.