As the countdown to North America's leading event for electric motor and transformer manufacturing technologies begins, the buzz around its networking and relationship-building opportunities reaches new levels.
On October 3, the Donald E. Stephens Convention Center in Rosemont, Il. will become the heart of the North American electromagnetic design and manufacturing industries as R&D, engineering, manufacturing, procurement and management professions gather for CWIEME Chicago 2017.

"I would definitely recommend CWIEME to any company. Nowhere else would you find such a concentration of new products, industry knowledge and experience," says Anderson Ricardo Pacheco, staff manufacturing engineer at Tesla Motors.
The three-day event is widely considered the premier meeting place for members of the North American coil winding, transformer and electric motor manufacturing community, who are busy preparing for this years edition with great anticipation.
CWIEME Chicago 2017 has been designed to offer more opportunities to meet new contacts than ever before. The new HEV & EV Trail, for example, will make it even easier for electric motor manufacturers and their suppliers in the industry to connect with the right business partners. This will be complemented by a special seminar series focusing on the key tech developments, challenges and opportunities in the EV automotive sector. This years exhibition will play host to the likes of AK Steel Corporation, Demak America Inc, LH Industries, Mitsui High-tec Inc, and many more.
The returning New Exhibitor Zone will likewise facilitate the creation of valuable new contacts.
New exhibitors at this years show will include special adhesive tapes manufacturer Saint Gobain Performance Plastics, motor manufacturing equipment supplier Rimac Machines, magnet specialist Cibas, and tooling equipment manfufacturer Wirelogix. These exhibitors will stand alongside CWIEME Chicago regulars 3M, Eltek International Laboratories, Kienle & Spiess, LH Industries, Mitsui High-Tec, Nittoku America, Superior Essex, and Tempel Steel. 2017 will also see the return of the Machinery Demo Zone, where attendees can witness all the latest technology and equipment in action.
Outstanding educational content
In recent years, CWIEME Chicago has become known in the industry not just as a place to develop business relationships but also to keep up to date with all the latest material, design and market developments. Growing in size - and reputation, the free-to-attend CWIEME Connect seminar and workshop program is expected to be a major highlight in 2017. Topics such as hybrid (HEV) and electric vehicle (EV) motor design; critical materials, global trade and the boundaries of demand; and the modernization of energy distribution networks will feature high on the agenda.
Influential speakers confirmed are Deia Bayoumi, ABB; Matthew Doude, Centre for Advanced Vehicular Systems, MSU; Patrick Schaufuss, McKinsey; and Tom Prucha, Protean Electric.
Other big names include:
• Rui Palavra, global technical manager at Amorim Cork Composites
• J Rhett Mayor, chief executive office, DHX Machines
• Dan Ionel, professor of electrical engineering, at the University of Kentucky
• Dr. W.H. Cheng, director and chief scientist at Schenzhen Radimag Magnets
• Sasa Spasic, CEO of Senis
• James Hendershot, president of Motorsolver and lifetime IEEE fellow
• Konstantinos Laskaris, chief motor designer, Tesla
• Preston Reine, group manager for manufacturing technology at IHS Markit
• Christian Ruoff, founder and publisher of CHARGED Electric Vehicles Magazine
Made in America
"Its an interesting time for the CWIEME community in North America right now," says Haf Cennydd, CWIEME portfolio director. "The growth of the HEV and EV market is creating new opportunities for the electric motor supply chain, and the modernization of aging energy distribution networks is giving a similar boost to the transformer industry. Meanwhile, customer demand for tailored products and shorter leadtimes is supporting a trend for reshoring - enabled by increasingly automated production plants, requiring fewer yet highly skilled employees.
"Weve seen that for many of our CWIEME Chicago visitors and exhibitors producing higher complexity mid-to-low volume products, it makes good economic sense to manufacture in the United States. With a long-standing heritage in the industrial heart of America, CWIEME Chicago is dedicated to facilitating the connections and spreading the knowledge that will not only help bring American manufacturing back home but allow it to prosper. We look forward to welcoming visitors and exhibitors old and new to the Donald E. Stephens Convention Center this October."
CWIEME Chicago - North Americas most comprehensive showcase for the coil winding, transformer and electric motor manufacturing industries
Dates and opening times: Tuesday October 3, 2017 - 10am to 5pm
Wednesday October 4, 2017 - 10am to 5pm
Thursday October 5, 2017 - 10am to 3pm
Venue: Donald E. Stephens Convention Center, Rosemont, Illinois
Admission: Free until Friday September 29, after which an onsite registration fee of $40 will apply for those who have not already registered online.
Featured Product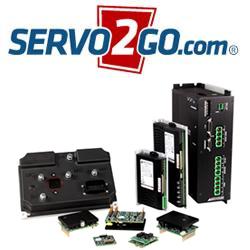 Engineered to drive brushless and brush servomotors in torque, velocity or position mode, Servo2Go.com offers a broad selection of servo drives in a wide range of input voltages and output power levels.