suitX recognized for their innovative, light and affordable exoskeleton helping reduce the risk of workplace injury
EMERYVILLE, CA - September 5, 2017 - suitX, a California-based robotics company designing and manufacturing medical and industrial exoskeletons, today announced it has been named a finalist in the 2017 R&D 100 Awards, which honors the 100 most innovative technologies and services of the past year. These prestigious awards recognize the top innovations across five categories: Analytical/Test, IT/Electrical, Mechanical Devices/Materials, Process/Prototyping, and Software/Services

suitX was recognized for their MAX exoskeleton. MAX's lightweight design and versatile modules support workers performing strenuous activities including lifting, stooping, bending and squatting, allowing workers to become more productive by reducing muscle strain by as much as 60%. The benefits of the MAX exoskeletons have been recognized by over one hundred users globally in well-established corporations.
"It's an honor to be named a R&D 100 Award finalist and we're thrilled to be in the company of these other important companies from around the country developing exceptional solutions," said Dr. Kazerooni, founder and CEO, suitX. "We're on a mission to help people improve their quality of life. Our goal in design of MAX is to make exoskeletons lightweight, affordable and accessible to minimize the risk of job-related injuries and improve the overall workplace experience."
The award winners were selected by an independent panel of more than 50 judges and represent many of the industry's leading R&D organizations. This year's R&D 100 Awards will be presented at a ceremony taking place on November 16, 2017 at the Walt Disney World Resort.
To learn more about suitX and their innovative technology, visit www.suitx.com.
###
About suitX
suitX is a robotics company designing and manufacturing both medical and industrial exoskeletons that address common problems faced by workers and people with gait impairment to improve everyday life. suitX has received Series A investments, been awarded a few US government awards, and won two Saint- Gobain NOVA Innovation Awards. suitX also won the $1M USD Top Prize in the UAE AI and Robotics for Good Competition. suitX is currently looking for prominent strategic partners and financiers for global expansion. For more information, visit www.suitX.com
Featured Product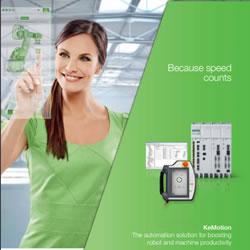 Best ergonomics and an intuitive user interface are key factors for efficient operation and monitoring. With the KeTop devices, high-performance, application-optimized hardware is available. The turnkey TeachView robotics user interface enables fast and easy teach-in. User-friendly HMIs are created with the easy-to-operate KeView visualization software - an optimum user experience is guaranteed.