Autonomous hovercraft will revolutionize land-air- water-based, security, military and surveillance operations.
Boats currently hold the title of Unmanned Surface Vehicle - USV, however they are ocean bound. Hov Pod operate in all waters, they have a wide footprint and are designed specifically for balance, buoyancy and stability.

"Hov Pod unmanned hovercraft and USV systems provide extended surface capabilities for many important commercial and military applications by operating seamlessly off-road and amphibiously over mud, riverbeds, shallow water/tidal regions, flooded land, rapids, shingle beaches, open water, grass, sand, desert, swamps, marshland, wetland, meadow, bogs, bayou, shore, weeds, submerged plants, snow, ice, shallow lakes, dried up salt marshes, rice paddy, sandbanks, roads, indeed any flat surface," explains Harris.
"Hov Pod unmanned hovercraft, include the Infinity truck sized model that can carry up to 9 people or haul a 1500 lb. (680 Kg) payload to a remote destination, flying at speeds up to 45 mph. Hov Pod solutions get first responders close to survivors during a disaster, move from water to land, survey remote areas, swarm an island, search a perimeter 24/7 and engage insurgents at the border without risking the life of soldiers," adds Harris.
"The Hov Pod hull is practically indestructible, built to handle the most difficult surfaces including ice. The hull of the SPX Series USV is made entirely from HDPE (High Density Polyethylene) and is molded into an extremely lightweight, buoyant and damage resistant shell. The hull of the Infinity USV is a proprietary blend of Carbon Fiber and Kevlar, the material used in bullet proof vests. The hulls for each the SPX and Infinity carry a 5 year warranty," states Peter Ward, President of Hov Pod.
"Since hovercraft fly at eye level, when integrated with compatible UAV systems, this platform delivers the worlds most versatile unmanned surface to air surveillance solution," adds Ward.
"The integration of autonomous hovercraft (USV), drones (UAV), tethered drones, robotic battery swapping technology, long range cameras, thermal imaging cameras, low light cameras, sensors, sonar, radar and 3D mapping payloads that deliver actionable intelligence in real-time from areas that are inaccessible to any other operations, is a security game changer," states Harris.
Hov Pod POD Ops (Perimeter Observation and Disaster Operations) combine aerial, surface and sub-terrain monitoring, that can be deployed to manage multiple coordinates simultaneously and are cheaper to purchase than the staffing and service costs of operating a helicopter.
Hov Pod will be exhibiting at DSEI, September 12-15, 2017, London, U.K.
From the moment we build our first Hov Pod 16 years ago we have not stopped looking for ways to innovate. In 2016 we began to experiment with integrated drone operations as there are many synergies between UAV and Hovercraft applications, we researched the many ways our products overlap and the ways they can enhance each other's operations. Now we have our own drone platform, a robotic drone battery recharge and swap, developed tethered drone solutions, and we offer autonomous hovercraft (USV).
Featured Product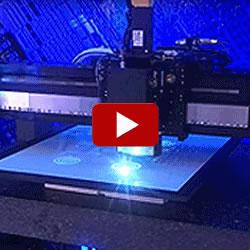 Hexapod micro-motion robots are based on a very flexible concept that can easily solve complex motion and alignment problems in fields including Optics, Photonics, Precision Automation, Automotive, and Medical Engineering.