OCTOPUZ was recently featured as a global solution in a document created by the Waterloo EDC that examined Industry 4.0 and what it meant for the region. This article will look at what exactly Industry 4.0 means, and what it implicates for the future.
We are entering the fourth industrial revolution - commonly referred to as Industry 4.0. Industry 4.0 is the name for the current trend of automation and data exchange in manufacturing technologies.

The International Federation of Robotics says that "Industry 4.0, which links the real-life factory with virtual reality, will play an increasingly important role in global manufacturing" in the next few years. (SOURCE: IFR)
While Industry 3.0 focused on the automation of single machines and processes, Industry 4.0 focuses on the end-to-end digitization of all physical assets and integration into digital ecosystems with value chain partners. Industry 4.0 introduces what has been called the "Smart Factory", in which cyber-physical systems monitor the physical processes of the factory and make decentralized decisions. However, there are a few challenges associated with adopting the Industry 4.0 model, such as IT security problems and a high degree of reliability and stability needed for successful cyber-physical communication that can be difficult to achieve and maintain (SOURCE: Forbes).
Companies are looking for ways to unlock new opportunities for growth, automate processes to improve production, increase revenue and deliver real-time actionable data in a world where technology is rapidly changing. Waterloo, Ontario, Canada is increasingly becoming a thriving cluster of technological companies solving real-world challenges and inventing creative solutions to drive Industry 4.0 forward. These companies are drawn to the "Silicon Valley of the North" for its sturdy foundation of entrepreneurship and collaboration, and the history of the area allows it to create products, solutions, and the technology to help businesses work smarter.
OCTOPUZ sought out this community for this very purpose: to push the boundaries of what is technologically possible right now while looking to the future of what could be within Industry 4.0. Being where the action is helps us draw the strongest talent, grow the possibility of Industry 4.0, and the region as a whole.
For more information on Industry 4.0, please visit pwc Canadas Global Industry 4.0 Report (Link Below)
About OCTOPUZ
OCTOPUZ is an intelligent offline robotic programming and simulation software ideal for any sized company. It offers the ability to program, simulate and generate code for multiple robots, simultaneously, with support for most robot brands in any configuration. OCTOPUZ is fully customizable to our customers needs, and our extensive support will provide assistance before, during, and after the sale.
To learn more about OCTOPUZ, or to request a free personalized demo for your application, send an email to info@octopuz.com or get in touch with your nearest reseller.
Special thanks to the Waterloo EDC for featuring us in their recent document on Industry 4.0.
References:
https://ifr.org/img/uploads/Executive_Summary_WR_Industrial_Robots_20161.pdf
https://www.forbes.com/sites/bernardmarr/2016/06/20/what-everyone-must-know-about-industry-4-0/#af8fd7a795f7
https://www.pwc.com/ca/en/industries/industry-4-0.html
Featured Product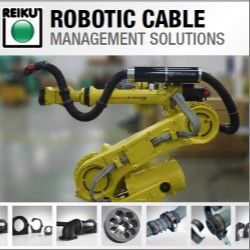 REIKU's Cable Saver™ Solution eliminates downtime, loss of revenue, expensive cable and hose replacement costs, maintenance labour costs. It's available in three sizes 36, 52 and 70 mm. All of the robots cables and hoses are protected when routed through the Cable Saver™ corrugated tubing. The Cable Saver™ uses a spring retraction system housed inside the Energy Tube™ to keep this service loop out of harms way in safe location at the rear of the Robot when not required. The Cable Saver™ is a COMPLETE solution for any make or model of robot. It installs quickly-on either side of the robot and has been tested to resist over 15 million repetitive cycles.