-Primary Applications include Insurance Underwriting for Ag/Commercial and Inspection of Bridges, Wind Turbines and Construction using APA System™ -InfraDrone Co-Founders--ISU Engineering Grads with Top Honors
DES MOINES, Iowa, Sept. 7, 2017 /PRNewswire/ -- High-Tech firm InfraDrone LLC announced today the launch of their proprietary APA SystemTM designed to take the use of drones to new levels by equipping the drones with highly sophisticated cameras, imaging, and nondestructive evaluation technology and applying proprietary machine learning analytics to interpret the data effectively.

InfraDrone LLC (www.InfraDroneLLC.com) is a High-Tech company providing drone-based data and analysis with primary applications including Insurance Underwriting for Ag/Commercial and Inspection of Bridges, Wind Turbines and Construction using the APA SystemTM.
Co-Founders Tyler Carter (President) and Akash Vidyadharan (CEO and Chief Technology Officer) emphasize three major benefits to their APA SystemTM:
Access: Utilization of Drones provides easy and economical access into areas that are otherwise dangerous (e.g. heights), inefficient (e.g. difficult to access) or inaccessible (e.g. bio-containment livestock centers).
Penetration Imaging: Utilization of Drones equipped with highly sophisticated imaging technology including 3D/mosaic modeling, HD visual inspection, penetrating infrared thermography, and LiDAR(Light Detection and Ranging) scans, allows our system to "see what cannot easily be seen" using traditional models.
Application: InfraDrone recognizes the need to make the data applications practical for businesses to use and employs proprietary machine learning and algorithms to quickly interpret massive amounts of data, providing actionable interpretations and recommendations.
"Our strategy is to use highly specialized equipment to provide usable data and results for our customers," commented Mr. Carter (President) Tyler. "Our drones can gather data quickly, safely and efficiently compared to traditional means."
"Gathering huge amounts of data that is otherwise difficult or impossible has become part of our normal operations," stated Mr. Vidyadharan (CEO and Chief Technology Officer). "The key is providing value to our clients through data interpretation for decision making. Our software engineers are building machine-learning systems that are capable of identifying and classifying defects on many types of infrastructure in a variety of projects and are designed to drive learning and efficiency to new levels," Mr. Vidyadharan explained.
The company currently has a team of 10 highly skilled engineers and scientists, with degrees ranging from Aerospace and Mechanical Engineering to Computer Science and Systems Engineering, including a number of advanced degrees. For more information about applications, pricing and availability, please email Kevin@InfraDroneLLC.com or call 515.314.6948.
Statements in this press release that are not purely historical are forward-looking statements regarding InfraDrone's efforts to develop and commercialize its technologies, and to achieve its stated benchmarks. Actual outcomes and actual results could differ materially from those in such forward-looking statements.
Featured Product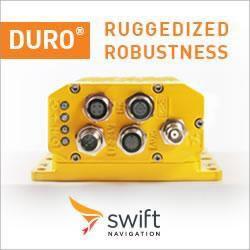 Duro® and Duro Inertial are enclosed dual-frequency RTK GNSS receivers. Designed and built to survive long-term, outdoor deployments, the easy-to-deploy Duro and Duro Inertial combine centimeter-accurate positioning with military ruggedness at a breakthrough price. Duro Inertial features an integrated IMU for continuous centimeter-accurate positioning in the harshest of outdoor deployments.