A major milestone delivery, the Naval Oceanographic Office accepts first new generation AUV
POCASSET, Mass., Sept. 12, 2017 /PRNewswire/ -- Hydroid Inc., a subsidiary of Kongsberg Maritime and the leading manufacturer of marine robotics, announced today that it successfully completed the first delivery of the New Generation REMUS 100 autonomous underwater vehicle (AUV) to its Naval Oceanographic Office customer. This delivery is a major milestone for Hydroid and represents the continuous evolution of the REMUS AUV product lines and ongoing growth of marine robotics technology.

"This is an exciting time for unmanned underwater technology and we are proud to play a major role in the market with our REMUS line of AUVs," said Duane Fotheringham, president of Hydroid. "The evolution of the REMUS 100 is a testament to the sustainability and longevity of our AUVs and our ability to maintain our core offering, while also integrating the latest, cutting-edge technologies."
The New Generation REMUS 100 AUV features advanced technology and capabilities that are the first of their kind in the industry, enabling customers to have increased autonomy and capability during missions. Designed based on the feedback from the AUV community, it combines the reliability of the original REMUS 100 AUV that customers know and trust with new features and capabilities, such as advanced core electronics, a flexible navigation suite with an exclusive conformal Doppler Velocity Log (DVL) and an open architecture platform for advanced autonomy.
About Hydroid, Inc.
Located in the U.S. and a subsidiary of Kongsberg Maritime, Hydroid is the world's most trusted manufacturer of advanced, field proven Autonomous Underwater Vehicles (AUVs). Our REMUS AUVs and marine robotics systems provide innovative and reliable full-picture solutions for the marine research, defense, hydrographic and offshore/energy markets.
Developed by a veteran team of engineers, Hydroid products provide a safe and reliable answer to the challenges that have hampered ocean exploration and security. For more information on our technologies, please visit www.hydroid.com.
Featured Product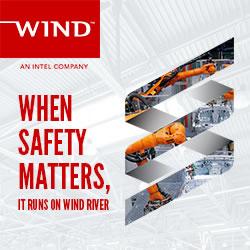 When it comes to ensuring the development of can't-fail systems, Wind River® is a leader with a proven track record of success. With more than 30 years of experience in embedded software and a portfolio of products deployed across more than 2 billion devices, Wind River delivers safety and security when it counts most. From industrial automation to automotive systems, as well as in healthcare devices, railway operations, and throughout the aerospace and defense sector, Wind River has extensive expertise providing built-in safety for complex, connected, safety-critical systems.