Tecnotion introduces a new series of smaller QTR torque motors at the SPS IPC Drives 2017. A new 65 mm and 78 mm diameter motor make the quality and torque of Tecnotion QTR series motor available for even smaller applications.
Central in the development of the new 65 and 78 mm motors is the low axial height and high torque density, known of existing Tecnotion QTR motors. A special rotor design allows for the large inner diameter. This makes it possible to use hollow axles, even for the QTR 65 motor. Four different stator heights are available for each diameter. The small QTR motors therefore suit a wide variety of markets including semiconductor, medical, machine tooling and robotics.

QTR 65 and QTR 78 motors have a brushless design. No mechanical transmission is needed. Torque ranges from 0.3-2.3 Nm continuous for the QTR 65 and 0.6-4.7 Nm continuous for the QTR 78. Speed ranges from 410-6200 rpm at just 48 volts.
To provide maximum flexibility and integration the QTR 65 and QTR 78 use flying leads instead of a power cable.
Featured Product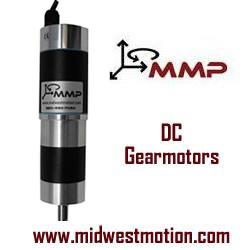 Midwest Motion Products, Inc. (MMP), is a well-established, healthy, & growing Family Owned Business, founded in 2001. MMP specializes in cost-effective standard DC Gearmotors, Motors, Controls, and ancillary equipment. Known world-wide for our "Lightning Fast" delivery capabilities, you can have a Standard Planetary or Right Angled DC Gearmotor BUILT and SHIPPED, often on the very same day you call. Offering Brushed and Brushless designs, with winding voltages ranging from 12 VDC to 120 VDC, we can deliver your "Robust & Reliable" samples within HOURS, instead of weeks, or even months.