Matt Dunlevy, CEO and President of SkySkopes, said, "this use-case highlights how UAS are a safe and effective option for many applications in the utility industry beyond basic inspections."
Grand Forks, ND - September 12, 2017 - Sharper Shape and SkySkopes, in cooperation with an investor owned utility have developed an innovative and unique way to use unmanned aircraft systems (UAS) for powerline construction. The mission used the Sharper A6 UAS to string sock lines for a 675 kV line construction project.

Matt Dunlevy, CEO and President of SkySkopes, said, "this use-case highlights how UAS are a safe and effective option for many applications in the utility industry beyond basic inspections."
Sock pulling, the act of flying a strong and lightweight rope and attaching it to the towers, is typically performed via helicopters or by workers climbing the towers. Both these methods involve risk to both helicopter pilots and ground crews. The use of UAS is eliminating the previously complex process consisting of several steps of reattaching the rope and decreasing the risk of injury for involved people.
"This is a great proof of concept for unmanned aircraft because we proved that they can string both the outboard lines and the center line through the middle of the center phase of a tower. There are risks associated with both helicopter and tower climbing methods. Now there is another option as proven by Sharper Shape and SkySkopes" Dunlevy said.
"When the utility first reached out there were lots of unknowns. Working as a team, we pulled together, developing a test plan, and executing the flights. We ran five test flights to test a number of objectives related to pulling the line through each of the tower phases, triggering the "PAC Man" and setting the line on the center pulley," stated Paul Frey, Director - Electric Utilities for Sharper Shape.
"Sharper Shape and SkySkopes are always looking for innovative ways to increase safety. Working with the utility we did exactly that," said Mike Johnson, Director of Flight Operations at SkySkopes.
SkySkopes pilots are trained for missions that are difficult in nature, often flying advanced heavy-lift multirotor aircraft with precision where autonomy is impractical.
Mike Johnson added, "we appreciated the challenge to innovate a feasible line pull solution for this 675 kV line project. The team did a great job of modifying a heavy lift small UAS to carry line, developing a test plan, and making sure the test flights were safely executed. Overall, I am impressed by the utilitys commitment finding new ways to make their operations safer."
About Sharper Shape
Sharper Shape is headquartered in Grand Forks, ND and is the global leader in drone-based automated inspection and maintenance planning services for infrastructure asset owners. The Sharper A6 is the world's most advanced drone for beyond-visual-line-of-sight (BVLOS) asset inspections. Using the Sharperscope 5.0 multi-sensor system and proprietary automated analysis software, Additionally, Sharper Shape has a completely Automatic Detailed Inspection capability using the DJI family of UAS to provide asset inspection services which drastically reduce maintenance costs for high-value assets such as power lines, pipelines, railways and more.
About SkySkopes
SkySkopes is a professional UAS flight operator headquartered in Grand Forks, ND, with a team of highly certified UAS pilots. SkySkopes flies a wide variety of advanced sensors and unmanned aircraft for transmission/distribution line inspections, oil and gas applications, and other innovative use cases that focus on adding value within the energy sector.
Featured Product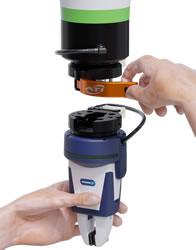 Simpler, stronger, and more precise. ATI Industrial Automation has developed a series of Manual Tool Changers that provides a cost-effective solution for quickly changing tools by hand. They feature a unique design that combines high strength, excellent repeatability, and a patent-pending screw-cam locking mechanism with multiple fail-safe features, which resists vibration and prevents loosening. These robust and compact Manual Tool Changers can handle payloads up to 80 pounds (36 kg) and pass pneumatics and electrical signals.