Second generation Probot also Included in down-select for phase I of U.S. Army SMET Program
GAITHERSBURG, Md.--(BUSINESS WIRE)--Roboteam Inc., the leading global provider of tactical ground robotic systems and controllers for defense, law enforcement and public safety missions - announced today the company has launched full-scale production and initial delivery of 40 second generation Probot platforms for two U.S. government agencies and one allied government agency; including the Defense Threat Reduction Agency (DTRA) and the Israeli Defense Forces (IDF.)

"Our newest Probot is designed by veteran warfighters, for the modern-day warfighter"
Tweet this
The second generation Probot is an advanced version of the companys original logistical carrier, the Probot. The updated IOP compliant platform has increased "silent" run-time of up to 72 hours and an onboard generator, which charges the batteries while in motion and allows the warfighter near limitless mileage. The platform was selected for Phase I testing for the U.S. Army Squad Multipurpose Equipment Transport (SMET) program in September at Fort Benning, Georgia.
"Our newest Probot is designed by veteran warfighters, for the modern-day warfighter," said The Honorable Heidi Shyu, Chairman of the Board at Roboteam and former U.S. Assistant Secretary of the Army for Acquisition, Logistics, and Technology. "The second generation Probot is the most sophisticated unmanned logistical carrier of its type, supporting soldiers in the most complex and dangerous tactical environments. Roboteam provides our nation and its allies with the most innovative and relevant ground robotics to help bring our soldiers back home safely."
Other key features of the platform include small form factor, incredible mobility, a payload capacity of over one short ton, and Roboteams autonomous "Follow-Me" technology. Roboteams platforms are built in conjunction with their manufacturing partner API Technologies in Windber, Pennsylvania.
Roboteam will exhibit the second generation Probot and other key tactical robotic platforms at AUSA from October 9-11 at the Walter E. Washington Convention Center in Washington, D.C.
About Roboteam
Roboteam designs, develops and manufactures cutting edge, user-oriented, multi-purpose, unmanned platforms and controllers for Defense, Law Enforcement and Public Safety missions. Today, Roboteam is a global operation with offices in the U.S. and Israel serving a wide spectrum of customers with several lines of products. We created a line of lightweight, fast deployable unmanned ground systems that deliver technological and functional breakthroughs for tactical purposes with unmatched reliability. Among our customers, one can find top units within the U.S. Military, Special Forces, EOD units and SWAT teams as well as other elite units around the globe. Roboteams flexible architecture permits a fast development of products, supported applications and core technologies. We pride ourselves on being engineers, inventors, and close to our customers and end-users.
Featured Product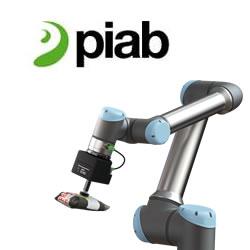 Piab's Kenos KCS gripper enables a collaborative robot to handle just about anything at any time. Combining Piab's proprietary air-driven COAX vacuum technology with an easily replaceable technical foam that molds itself around any surface or shape, the gripper can be used to safely grip, lift and handle any object. Standard interface (ISO) adapters enable the whole unit to be attached to any cobot type on the market with a body made in a lightweight 3D printed material. Approved by Universal Robots as a UR+ end effector.