Lockheed Martin Ventures is Ocean Aero's second significant investor, joining marine instrumentation leader Teledyne Technologies, which has invested in Ocean Aero since 2014.
BETHESDA, Md., Sept. 15, 2017 /PRNewswire/ -- Lockheed Martin Ventures is making a strategic investment in Ocean Aero, the developer of the Submaran™ unmanned maritime vehicle. This is Lockheed Martin Ventures' third investment this year, and it will create opportunities for both companies to grow their maritime capabilities, with a focus on multi-domain Command, Control, Communications, Computers, Intelligence, Surveillance and Reconnaissance (C4ISR).

Lockheed Martin Ventures is Ocean Aero's second significant investor, joining marine instrumentation leader Teledyne Technologies, which has invested in Ocean Aero since 2014.
"Ocean Aero represents the next generation of environmentally powered, autonomous ocean systems," said Chris Moran, executive director and general manager of Lockheed Martin Ventures. "Our investment will allow us to better respond to customers' maritime needs with technology solutions for a diverse set of missions."
The Submaran™ is a new class of unmanned underwater and surface vessel for ocean observation and data collection. Powered by wind and solar energy, the Submaran™ is capable of traveling for months, even in extreme conditions. In addition, it's easy to deploy and recover, and can dive to depths of 660 feet to avoid surface traffic or to conduct C4ISR operations.
Lockheed Martin partnered with Ocean Aero on a successful, multi-domain unmanned systems technology demonstration during the 2016 Annual Naval Technology Exercise at the Naval Undersea Warfare Center in Newport, Rhode Island. This investment will allow the companies to continue to demonstrate their expertise in configuring teams of autonomous systems for complex missions.
"We're excited about the opportunity to grow our business and leverage the strengths of Lockheed Martin to accelerate innovation in the autonomous domain," said Eric Patten, CEO and president of Ocean Aero.
While Lockheed Martin has provided funding to venture stage companies since 2007, it refocused in 2016 to long-term, strategic investments in technology innovations that could drive growth in existing and new markets for the company. The fund invests primarily in early-stage companies, and its technology priorities include autonomous systems and robotics, cyber security, artificial intelligence, advanced electronics and sensor technologies.
For additional information about Lockheed Martin autonomous and unmanned systems, visit: www.lockheedmartin.com/unmanned.
About Lockheed Martin
Headquartered in Bethesda, Maryland, Lockheed Martin (NYSE: LMT) is a global security and aerospace company that employs approximately 97,000 people worldwide and is principally engaged in the research, design, development, manufacture, integration and sustainment of advanced technology systems, products and services.
About Ocean Aero
Ocean Aero is a San Diego based business focused on developing autonomous, highly persistent, energy scavenging, solar/wind powered vessels. The Submaran, a new class of unmanned underwater, surface vessel, combines surface and subsurface performance in a unique transformable, self-propelling body, capable of long missions in extreme conditions.
Featured Product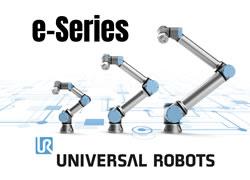 With the new e-Series cobot line, Universal Robots raises the bar for cobots, adding unique new features while significantly strengthening the four core principles defining collaborative robots: fast set-up, easy programming, flexible deployment, and safe operation. With a new built-in, tool-centric Force/Torque sensor the e-Series is ready to take on applications requiring force control right out of the box. A repeatability of 30 micron means the new cobots are suitable for very precise finishing, assembly and electronics tasks. A re-designed user interface decreases cognitive load and expedites program development, while a new externally accessible, 500Hz system bus enables more complex motion control algorithms or profiles.