Technology Will Ignite Advances in Robotization of Wide Range of Products
SAN FRANCISCO, Calif., Sept. 18, 2017 - PerceptIn, a full-stack visual intelligence company, today announced the launch of its visual intelligence system for autonomous vehicles in controlled environments at the TechCrunch Disrupt conference, in San Francisco.

"Our visual intelligence system represents a significant advancement in the evolution of robotization," said Shaoshan Liu, co-founder and chairman of PerceptIn. "It makes it affordable for companies and organizations to employ self-driving, unmanned vehicles for less than $10,000. For example, the logistics industry has been extremely active in seeking out autonomous vehicle technology for the loading and transport of goods throughout a facility. Our technology can also be applied to other indoor and outdoor controlled environments, such as warehouses, corporate and college campuses, airports, medical institutions and other large, private facilities."
PerceptIns visual intelligence hardware system is a combination of multiple types of sensors with accurate hardware synchronization and an embedded, low-cost, low-power efficient computing system, which features:
• Four HD global shutter cameras with wide FOV providing panoramic and stereo vision;
• 6 axis IMU and GNSS modules for localization;
• Nvidia Jetson System-on-Chip;
• CAN and serial interface for communication and control.
PerceptIns visual intelligence software system is a full-stack solution including runtime, SDK, and algorithms:
• A carefully designed runtime on top of embedded SoC with high efficiency in mind.
• An easy-to-use SDK to enable users to develop applications and perform system integration.
• A rich set of computer vision and deep learning proprietary features, including advanced, fusion-based centimeter-level positioning, advanced HD mapping, and semantic scene understanding.
"An accurate and reliable perception and intelligence system is a key to enable autonomous capabilities for any robotics system." said Zhe Zhang, PerceptIns co-founder and CEO. "Weve been spending a huge amount of effort on software/hardware co-design of our visual intelligent system to create a platform suitable for computer vision and deep learning computation.
PerceptIns visual intelligence solution is an upgrade to its first commercial offerings, which have been implemented on household products and commercial service robots, including:
• Robotics solutions on IoT-grade SoCs to enable low-end robots, such as intelligent toys and cleaning robots.
• Robotics solutions to enable mid-end robots, such as in-home service robots and patrolling surveillance robots.
"The next stage of robotization in creating truly autonomous products is the ability to give them 'perception, the ability to understand the environment from the sensing data, and 'intelligence, the reasoning from perception to gain insight and make smart decisions," said Liu. "This will make it feasible to integrate such full stack visual intelligence system into just about anything to 'robotize it."
About PerceptIn
PerceptIn (www.perceptin.io), a world-class full-stack visual intelligence company, is leading the way to a new reality where machines see, interpret, learn, and take action. Some of these machines may be what we think of as traditional "robots," but we also anticipate a broad range of devices that take the deep learning of visual intelligence, which can be integrated into almost any device, and introduce advanced functionalities for exciting, new products that liberate workers from mundane tasks, creating new efficiencies. All in a way that is so cost-effective, the new business opportunities will be staggering.
Today, PerceptIn is growing and evolving at a swift pace. Its core technology, focused on visual intelligence, is finding its way onto myriad new devices in a broad range of areas. It is a preferred partner in NVIDIA Inception Program, and it has several other key collaboration partner technology companies.
With offices in Santa Clara, Calif., and Shenzhen, China, PerceptIn has around 30 employees serving more than 100 customers and working on providing hardware and software solutions for the robotization for the next generation of products. PerceptIn recently secured more than $9.6 million of A round and a strategic A+ round funding in July 2017, led by Matrix Partners and a world leading electronics company. It also received an angel round funding from Walden International in May 2016.
About TechCrunch Disrupt
TechCrunch Disrupt SF 2017 is TechCrunchs 11th annual conference in San Francisco. The format combines top thought-leader discussions with new product and company launches. Morning executive discussions debate technology-driven disruptions in many industries, while the afternoons are reserved for the Startup Battlefield, where 20+ new companies will launch for the first time onstage, selected to present from numerous applications received from around the world. The winning company will receive a $50,000 grand prize and the Disrupt Cup at the conclusion of the conference. The conference is September 18-20th, 2017 at Pier 48 in San Francisco.
Featured Product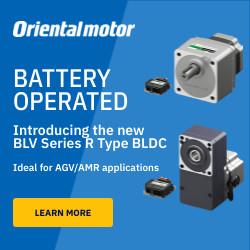 The BLE2 Series replaces our popular BLE Series and continues our brushless motor advantages by featuring an all new compact, high-power and high-efficiency brushless DC motor combined with a Driver that can be digitally set and controlled via external DC voltage or by the front panel. The BLE2 Series can easily compete with larger 3-phase inverter driven motors in many more applications, with built-in simple holding torque function, saving space and increasing performance thanks to the advantages of a brushless motor design. The BLE2 Series has a maximum speed of 4000 r/min, achieving a speed ratio of 1:50 (80 to 4000 r/min). The new motor structure is small than previous models and enables high power and high efficiency while incorporating easy setting, installation and wiring. The new motor connector offers IP66 degree of protection and allows for easy and direct connection between motor and driver with two available orientation of cable outlet direction. Standardized use of stain