AutonomouStuff, the world's leader in providing components, engineering services, software and platforms to enable the future of mobility has expanded their reach globally to better serve customers worldwide. The company's expansion efforts include added team members, a GmbH located in Germany and offices in Silicon Valley and Beijing.
As the automated mobility industry continues to accelerate at record speed, AutonomouStuff, LLC announces its global expansion, which includes opening offices in San Jose, Calif. and Beijing, along with a GmbH in Germany.

"The entire industry is growing and its our job to continue to stay true to our mission," said AutonomouStuff Founder & CEO Bobby Hambrick. "Weve expanded our efforts to keep up with and exceed the needs of our global customer base. As more and more people are building for the future of mobility we want to be there in the right capacity to support them."
Founded in 2010, AutonomouStuff has scaled quickly to keep up with advancements in transportation. It began as the one stop shop for autonomous/robotics components and has quickly grown to include custom engineering and integration services, in-house software development and Automated Research Development Platforms.
What began as a bootstrapped startup out of Hambricks home has quickly transformed into a globally recognized industry powerhouse with more than 2,000 worldwide customers; an ecosystem of strategic partners; physical office space across the globe; key representation in central Illinois, Silicon Valley, Detroit, Beijing and Europe; and a talented, experienced team of employees who specialize in technologies that enable autonomous driving.
"Its exciting to think about our journey," Hambrick said. "We truly are on the cutting-edge of automated technology. Im proud to see the changes we make daily and the insane amount of growth thats come from a crazy idea and a little bit of passion. Im confident that AutonomouStuff will continue to scale for success and revolutionize the future of transportation."
About AutonomouStuff
AutonomouStuff is proud to provide the industry's most advanced organizations with the best products, software and engineering services to enable robotics and autonomy. The top priority for the team at AutonomouStuff is customer success. Customers value the convenience of finding the most cutting-edge modular-based automation software solutions, engineering services, perception, computing, GPS and interface components in one location. For more information, visit http://www.AutonomouStuff.com.
Featured Product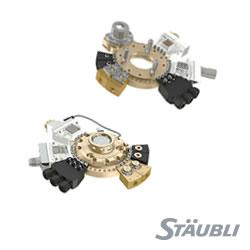 TX2 robots: redefining performance by offering collaborative safety and high performance in a single machine. These pioneering robots can be used in all areas, including sensitive and restrictive environments, thanks to their unique features. Safety functions are easy and inexpensive to implement. They allow a higher level of interactions between robots and human operators, while still guaranteeing protection of your people, production and investment.