Mobilicom integrated SkyHopper PRO across all UAV platforms of international drone manufacturer, Aero Sentinel, offering capabilities and support that enable the execution of first-responder, search and rescue, and reconnaissance mission drone operations
Mobilicom Ltd. developer of 4G Mobile MESH private networking technology, has secured an additional design win for SkyHopper PRO with international manufacturer of tactical unmanned aerial vehicles (UAVs) Aero Sentinel. Tel Aviv-based Aero Sentinel is a manufacturer of civil and homeland security drones that cater to a broad range of applications, with a broad worldwide customer base.

The key applications that are served by Aero Sentinel's drones, such as first responder, search and rescue and reconnaissance missions, require extremely reliable drone communication elements that will operate in harsh environmental conditions. SkyHopper PRO's long-range transmission and non-line of sight capabilities are essential for these applications, as is its ability to transmit secure, encrypted data and video to an unlimited number of personnel in the field. In an effort to perform operations in these key applications, Aero Sentinel's drones possess long flight times of 70-80 minutes, are equipped with day and night cameras and have a low noise signature.
With SkyHopper's broadening of its product portfolio, Aero Sentinel will leverage added benefits, with a new SkyHopper product that will be offering advanced video processing capabilities in addition to communication. Furthermore, Mobilicom's added contribution to the overall integration with Aero Sentinel's drones is in leveraging its field-proven technology and expertise to provide hands-on support throughout the entire development process.
"We have an excellent synergy with Mobilicom in that they have tailored their communication solution to something that truly meets our needs," said Aero Sentinel CEO, Israel Vaserlauf.
"We had specific requirements in order for our drone to operate within its given applications, and SkyHopper PRO was the best communication solution, offering advanced capabilities that serve our intended purpose."
Mobilicom's CEO Oren Elkayam stated: "The solution we offer Aero Sentinel with SkyHopper PRO enables the company to release drones on the cutting edge. Our goal was for Aero Sentinel to expand its market presence in the relevant segments and we helped them achieve this goal not only through our product offering, but by also ensuring they receive the continuous support they need from our expert team."
For more information on SkyHopper please visit us at skyhopper.biz
Featured Product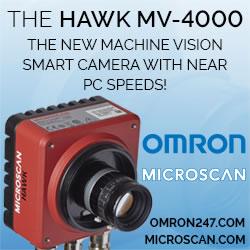 Awe-inspiring power and superior flexibility is sheathed within the contoured casing of the HAWK MV-4000. This smart camera builds upon the previous generation by quadrupling processing power and achieving real-time trigger response using an FPGA. Its state-of-the-art algorithms make it an excellent tool for any industry, whether the requirement be code reading, code verification, inspection, guidance, gauging or a combination of all four.