Mechatronics Leader Uses High Q+R GaN FETs to Reimagine Servo Motors by Redesigning their Power Electronics Systems
GOLETA, Calif.--(BUSINESS WIRE)--Transphorm Inc., the leader in the design and manufacturing of highest reliability (JEDEC and AEC-Q101 qualified) 650V gallium nitride (GaN) semiconductors, along with Yaskawa Electric Corporation announced that Yaskawas Σ-7 F is the first servo motor to use high-voltage (HV) GaN. Transphorms technology enables Yaskawa to deliver better performance in a smaller form factor versus what is possible with incumbent silicon semiconductors. The groundbreaking achievement of this co-developed device is that the Σ-7 F integrates the servo amplifier with the servo motor itself. Further, Yaskawas use of Transphorms GaN FETs produces an integrated servo motor half the size of a similar design using Silicon (Si) technology.

TheΣ-7 F: Revolutionized by GaN
The Σ-7 F series—AC servo motors in a three-phase bridge configuration—uses Transphorms HV GaN FETs in a standard three lead TO-220 package. The topology will be deployed across Yaskawas full Σ-7 F product line, which currently includes three servo motors ranging from 100W to 400W. The integrated motor allows the industrial manufacturing system to simplify cabling in a daisy chain configuration. Further, it reduces the systems control panel cabinet size by as much as 30 percent, given:
Reduction in size of the servo motor itself
Elimination of the power supply cables terminal block due to a reduction in cabling required
Smaller heat sink due to lower losses using Transphorm GaN
Transphorms HV GaN technology inherently delivers better efficiency via lower gate charge, faster switching speeds and smaller reverse recovery charge when compared to incumbent technologies, while offering high reliability. Additionally, applications designed on Transphorm GaN achieve smaller device size, higher power density and lower overall system costs. Yaskawas Σ-7 F motor demonstrates these benefits as well as:
GaN Benefit
Explanation
Impact
Smoothing Capacitor Reduction Increased switching frequency reduces smoothing capacitor by up to 75 percent.
Smaller PCB size
Decreased Losses Inverter circuit losses decrease by as much as 66 percent when compared to Si/IGBTs Smaller heat sink
Acoustic Noise Reduction Inaudible carrier frequencies reduce noise by as much as 6-8 dB at 6K RPMs when compared to Si/IGBTs Quieter machinery
TheΣ-7 F targets industrial multi-axis automation systems commonly used in conveyance equipment as well as food product and packaging manufacturing. Such automation systems must provide high precision, high throughput, repeatability and design flexibility.
Working with Transphorm
"The Σ-7 F servo motor is our second Transphorm GaN product and our second time leading an industry into the future with revolutionary power solutions," said Kazuhiro Imanaga, General Manager, Servo Drives Technology Department, Motion Control Division, Yaskawa Electric. "When delivered by trusted suppliers, GaN has the potential to radically change whats possible in industrial automation systems. Yaskawa has the vision capable of driving that change. Our belief in the Q+R of Transphorms GaN along with our positive partnership experience with the companys engineers enables us to fulfill that vision."
The Σ-7 F resulted from a strong multi-year partnership between Yaskawa and Transphorm. Yaskawas Research and Development team as well as its Quality and Production team worked closely with members of Transphorms GaN Development, Applications, Quality and Manufacturing teams. Additionally, Yaskawa tapped into Transphorms design resources and tools throughout the development process, which are available to customers through Transphorms Silicon Valley Center of Excellence.
To learn more about how Transphorm GaN can benefit industrial systems or for help modifying current system designs, contact us at transphormusa.com/support.
About Yaskawa Electric Corporation
Yaskawa Electric located in Kitakyushu, Japan, is a world-leading provider of core technologies focused on motion control, robotics, and system engineering. Founded in 1915, Yaskawa Electric has provided exceptional customer experiences for 100 years. Focusing on mechatronic solutions, it has shipped over 20 million AC drives, 15 million servo motors and 300,000 robots worldwide. For more information, visit www.yaskawa.co.jp.
Welcome to the GaN Revolution!
Transphorm is a global semiconductor company, leading the GaN Revolution with the highest performance, highest reliability GaN devices for high voltage power conversion applications. To ensure this, Transphorm deploys its unique vertically-integrated business approach that leverages the industrys most experienced GaN engineering team at every development stage: design, fabrication, device and application support. This approach, backed by one of the industrys largest IP portfolios with over 600 patents, has yielded the industrys only JEDEC- and AEC-Q101-qualified GaN FETs. Transphorms innovations are moving power electronics beyond the limitations of silicon to achieve over 99 percent efficiency, 40 percent more power density and 20 percent lower system cost. Join the revolution at transphormusa.com and follow us @transphormusa.
Featured Product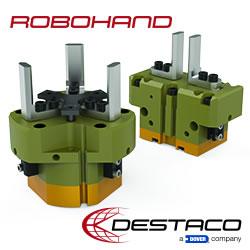 Automatically change end effector tooling quickly and easily with Destaco's Automatic Tool Changers. Designed with exceptional repeatability, high rigidity and load capacity, they are perfect for multiple tooling applications utilizing one robot. We offer different models and sizes to handle light-duty to heavy-duty applications. Our RQC/RTP Series provides a high level of flexibility with a configurable, modular design that accommodates up to four optional modular interfaces.