Rapid prototyping is a key part of the new product development processes today. Craig Hidalgo shares his expertise on this topic at the Cleaning Products US expo in October 2017.
Another year, another chance to meet innovative and inspiring people leading the world in cleaning product production. This years summit will take place just steps away from the US Patent and Trademark Office making the appearance of packaging design expert, Craig Hidalgo even more memorable. From October 10 to 12, attendees will have a chance to learn new things and meet people within the industry, Craig Hidalgo included.

Craig Hidalgo is known within the business because of his innovative and practical patented designs. With over 25 years of experience in the field of prototyping design Philadelphia, product design and development, there is no other man you can trust to come up with new packaging ideas. His most recent venture revolves around rapid prototyping and how it affects new product development processes. The packaging industry is always changing, finding better ways to package goods so that consumers are satisfied with the products they purchase.
The way your products are packaged matters because customers prefer to choose items with better packaging. The program will be a chance for companies to learn from Craigs expertise on the best practices used in designing and prototyping. The main focus of creating these prototypes is to efficiently design one that can be used for real-functional testing.
Other topics will include an overview of the commonly used 3D printers including the additives in manufacturing technologies. Many of todays well-respected healthcare companies and consumer products companies have Craigs knowledge. He is extending his know-how to the big shots within the Cleaning Product industry to create better packaging for their products. Craigs technical knowledge, experience, and prowess are all for the taking during Cleaning Products 2017. It is one of the highlights of the entire event that shouldnt be missed.
Working with designers and engineers gives companies a new perspective when it comes to packaging and product design engineering. Whether you are in the cleaning products industry, in healthcare, or any kind of product manufacturing business you can benefit from what Craig Hidalgo will present.
"Industrial designers and design engineers work together strategically. This allows them to bring ideas and concepts to life and introduce them into the market," - Definitive Design. It is through unique and inventive thinkers that we continuously discover new things. There are no limits when creativity and strategic thinking are used under one roof.
The team at Definitive Design works as unit and tackle challenges head-on with a mix of enthusiasm and curiosity and a dash of imagination. Lead by Craig Hidalgo who has an amazing record of 17 patents in different fields, including but not limited to durable medical goods, dental devices, and tissue ablation. They are well equipped with knowledge, inspiration, and resources to find the solutions during the development of a new product.
October 11, 2017, at 9 AM, save the date on your calendars and dont miss out on this opportunity to learn and grow from Craigs work and experience with industrial designers and design engineers. People in the Cleaning Products business will not regret attending his talk.
For more information visit http://www.definitive-design.com/industrial-design-services/design-engineering/
Featured Product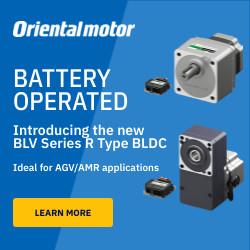 The BLE2 Series replaces our popular BLE Series and continues our brushless motor advantages by featuring an all new compact, high-power and high-efficiency brushless DC motor combined with a Driver that can be digitally set and controlled via external DC voltage or by the front panel. The BLE2 Series can easily compete with larger 3-phase inverter driven motors in many more applications, with built-in simple holding torque function, saving space and increasing performance thanks to the advantages of a brushless motor design. The BLE2 Series has a maximum speed of 4000 r/min, achieving a speed ratio of 1:50 (80 to 4000 r/min). The new motor structure is small than previous models and enables high power and high efficiency while incorporating easy setting, installation and wiring. The new motor connector offers IP66 degree of protection and allows for easy and direct connection between motor and driver with two available orientation of cable outlet direction. Standardized use of stain