KUKA Robotics will showcase new and innovative solutions for palletizing and packaging in booth #C-5208 at PACK EXPO Las Vegas September 25th – September 27th 2017
SHELBY TOWNSHIP, Mich. & LAS VEGAS--(BUSINESS WIRE)--KUKA Robotics will be among 1,800+ world-class industry exhibitors at Pack Expo Las Vegas in booth #C-5208. Pack Expo is North Americas largest, most comprehensive processing and packaging trade show.

Come see the latest in #palletizing and #packaging solutions from #KUKA in booth C-5208 at #PACKEXPOLV
Tweet this
Attendees will 'flip' when they visit KUKA Robotics on the show floor with FlipBot. First introduced at SXSW 2017, this demonstration features the KR 6 R900 AGILUS in a bottle flip challenge. But this demonstration is more than thrills, it allows for optimization of complex processes, harnessing large sets of data to help a robot get better at something all on its own. What many do not realize is the technology behind the concept to make sure the robot is not only repeating the motion but being successful each and every time. FlipBot offers a fun but meaningful way to better understand interactive machine learning and to integrate other advances in robotics and software into any application solution.
KUKA will feature three KR 6 R900 AGILUS robots in an application utilizing software technology in both conveyor and vision for a pick and place demonstration. By using vision and load balancing technology, the KR AGILUS robots will quickly pick and place randomly positioned components from one moving conveyor into straight lines on another. The vision software from KUKA simplifies the traceability of customer products and can safeguard quality and reduce costs due to greater efficiency and productivity using automatic checks. With the KR AGILUS family, the speed and accuracy make the performance unique in its payload category and offers impressive results combined with minimized cycle times. This small robot family has a payload availability from 3 kg to 10 kg with a reach of 540 mm to 1,100 mm and is available in over 34 different variations including waterproof and cleanroom.
Monday September 25th from 1:00 - 4:00pm, KUKA Robotics will be hosting Robots, Wine and Cheese. This in-booth reception will offer unique one-on-one time for customers to interact with KUKA packaging experts. Those attending the reception will also have an opportunity to experience the booth demonstrations in more depth.
KUKA Robotics is also giving attendees the opportunity to see and operate a hands-on demonstration with the LBR iiwa. Those attending and visiting booth C-5208, will have the chance to teach the robot points on a work area and then watch the LBR iiwa pick & place headphones. The lightweight LBR iiwa (Intelligent Industrial Work Assistant) robot is the first series-produced sensitive robot suitable for human-robot collaborations. This robot has integrated, sensitive torque sensors in all 7 axes giving the robot contact detection and programmable compliance to avoid collisions, thereby eliminating the need for expensive safety fencing. The LBR iiwa from KUKA is available in two payloads: 7 kg and 14 kg with reaches of 800 mm and 820 mm.
Also on the show floor, a KR 240 R3200 PA robot will be on display for attendees to get up close and personal with KUKAs KR QUANTEC PA series of palletizing robots. The KR QUANTEC PA series offers a robust design and high-performance motors that allow for up to 27 cycles per minute in palletizing operations. The base frame of this palletizing series is streamlined offering a small footprint to fit in more confined spaces. The KR QUANTEC PA series is ideal for heavy lifting in the palletizing and packaging industry with availability in payloads of 120 kg, 180 kg, and 240 kg all with a reach of 3,195 mm.
KUKA Connect is KUKAs new cloud-based software platform that provides customers access to, and analytics of, their robots at anytime, anywhere, on any device. Built on open global standards, KUKA Connect securely leverages cloud computing technologies and big data analytics to provide customers maximum visibility into their connected KUKA robots or other devices. And now customers can know if unplanned downtime may occur before it happens with anomaly detection. The anomaly detection system learns normal ranges of a robots motor variables over time, then detects and notifies when repeated deviations outside the normal range occur. With this newest feature from KUKA Connect, anomaly detection works as an early warning system so the customer can take appropriate measures to avoid potential unplanned downtime.
About the KUKA Robot Group
KUKA Robotics Corporation along with KUKA Roboter GmbH, Augsburg Germany (part of the KUKA Aktiengesellschaft group of worldwide companies), ranks among the world's leading suppliers of industrial robots and material handling vehicles. Core competencies include the development, production, and sale of industrial robots, controllers, software, linear units, and omniMove™ omni-directional motion platforms. KUKA robots are utilized in a diverse range of industries including the appliance, automotive, aerospace, consumer goods, logistics, food, pharmaceutical, medical, foundry and plastics industries as well as multiple applications including material handling, machine loading, assembly, packaging, palletizing, welding, bending, joining, and surface finishing. KUKA robots range from 5kg to 1300kg payloads, and 635mm to 3900mm reach, all controlled from a common PC based controller platform.
Featured Product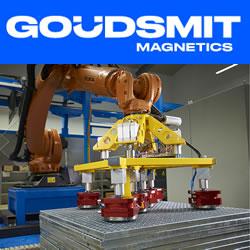 Magnetic robot end-of-arm tooling are suitable for the automated pick-up and positioning of steel or other ferromagnetic objects. They can be switched on and off and have a threaded mounting hole for robots. Magnetic grippers are an efficient alternative for traditional robot grippers. Application in automated production lines and for robots and pick-and-place systems. Magnetic product handling reduces the duration and number of operations. Goudsmit Magnetics is driven by magnetism since 1959. See how it works: https://youtu.be/hcXJ98mXHZE