Yale announces its robotic lift truck demonstration at this week's PACK EXPO Las Vegas 2017.
LAS VEGAS (Sept. 25, 2017) - More than 30,000 attendees and 2,000 suppliers are at PACK EXPO this week to experience the latest packaging technology innovations and address operational challenges from SKU proliferation to labor availability. Automation takes center stage at booth 7379 in the upper south hall of the Las Vegas Convention Center, with Yale Materials Handling Corporation demonstrating its robotic end rider lift truck Driven by Balyo.

The MPE080-VG robotic lift truck automates a variety of repetitive load transportation tasks, which can improve labor productivity and free employees to take on more value-added roles. It picks up, transports and drops off pallets anywhere on the floor using infrastructure-free navigation technology to map and guide itself by recognizing existing structural features. Without the need for tape, wire or other additional infrastructure, the Yale® robotic end rider lift truck can easily and quickly adjust to changing layout configurations in the event of expansions, peaks or other business changes. It can also switch to manual mode with the touch of a button, offering additional flexibility to help operations adapt to unexpected demands.
Robotic lift trucks can take on a variety of functions to increase operational efficiency, including:
Pallet load transport - Pick up full pallet loads from end-of-line palletizing stations and transport them to staging areas in preparation for shipping
Inventory put-away - Transport loads from receiving to storage for later processes
Assembly sequencing - Move inventory into position for production, from empty containers in preparation for fill lines to automotive components for manufacturing
Cross-docking - Bypass storage and move loads directly from receiving to shipping docks to keep high-velocity distribution operations moving
Waste disposal - Utilize latent capacity to transport excess dunnage, packaging or other waste, keeping production areas clean and efficient
"We understand the labor challenges faced by many of todays operations, both big and small," says Lou Micheletto, Manager of Integrated Solutions. "Here at PACK EXPO, attendees are seeing how Yale robotic lift trucks can help address labor challenges, offering reliable solutions for a variety of applications and industries."
In addition to the MPE080-VG end rider, Yale offers two other robotic lift truck models with Driven by Balyo technology - the MO70T tow tractor and the MC10-15 counterbalanced stacker. The Balyo architecture can scale according to operational demands, offering the flexibility to manage a single truck or an entire fleet. An advanced obstacle detection feature controls truck speed and affords smooth, efficient movement, minimizing unnecessary stops and impacts to allow for up to 20,000 hours of use.
About Yale Materials Handling Corporation
Yale Materials Handling Corporation markets a full line of materials handling lift truck products and services, including electric, gas, LP-gas and diesel powered lift trucks; narrow aisle, very narrow aisle and motorized hand trucks. Yale has a comprehensive service offering including Yale Vision wireless asset management, fleet management, Yale service, parts, financing and training. Yale® trucks are manufactured in an ISO 9001:2008 registered facility and range in capacity from 2,000 to 36,000 lbs.
Yale Materials Handling Corporation is a division of Hyster-Yale Group, a wholly owned subsidiary of Hyster-Yale Materials Handling, Inc. (NYSE:HY). Hyster-Yale Materials Handling, Inc. and its subsidiaries, headquartered in Cleveland, Ohio, employ approximately 6,600 people world-wide.
Yale truck and PEOPLE. PRODUCTS. PRODUCTIVITY. are trademarks, service marks or registered marks in the United States and certain other jurisdictions.
# # #
Featured Product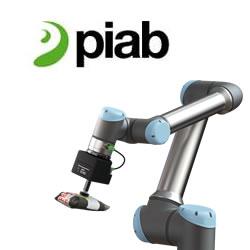 Piab's Kenos KCS gripper enables a collaborative robot to handle just about anything at any time. Combining Piab's proprietary air-driven COAX vacuum technology with an easily replaceable technical foam that molds itself around any surface or shape, the gripper can be used to safely grip, lift and handle any object. Standard interface (ISO) adapters enable the whole unit to be attached to any cobot type on the market with a body made in a lightweight 3D printed material. Approved by Universal Robots as a UR+ end effector.