Innovative Apps Significantly Improve Manufacturing Capabilities, Efficiencies, and Financials for Both End Users and Systems Integrators
BUDAPEST, Hungary - September 2017 - OptoForce, a leading robotics technology provider of multi-axis force and torque sensors, today announced that it has developed three new applications for KUKA industrial robots.

The new applications are hand guiding, presence detection, and center pointing and will be utilized by both end users and systems integrators. Each application, listed below, is also supported by new videos to demonstrate how they work.
• Hand Guiding: With OptoForces Hand Guiding application, KUKA robots can easily and smoothly move in an assigned direction and selected route. This video shows specifically how to program the robot for hand guiding.
• Presence Detection: This application allows KUKA robots to detect the presence of a specific object and to find the object even if it has moved. Visit here to learn more about presence detection.
• Center Pointing: With this application, the OptoForce sensor helps the KUKA robot find the center point of an object by providing the robot with a sense of touch. This solution also works with glossy metal objects where a vision system would not be able to define its position. This video shows in detail how the center pointing application works.
"OptoForces new applications for KUKA robots pave the way for substantial improvements in industrial automation for both end users and systems integrators," said Ákos Dömötör, CEO of OptoForce. "Our 6-axis force/torque sensors are combined with highly functional hardware and a comprehensive software package, which include the pre-programmed industrial applications. Essentially, were adding a 'sense of touch to KUKA robot arms, enabling these robots to have abilities similar to a human hand, and opening up numerous new capabilities in industrial automation."
End users and systems integrators will recognize two major business benefits from these new applications:
Performing New Automation Tasks in Manufacturing
• For end users, this development provides new automation capabilities for the KUKA robots when using these applications - saving inspection and rework resources, and decreasing manufacturing costs. Automating precision-oriented tasks not previously possible will translate to higher quality and greater efficiency in production, therefore helping companies become more competitive in global markets.
• For systems integrators, this means implementing applications with OptoForce sensors that will enable them to automate complex/precise tasks, accept more orders, and acquire more customers. Customers are more satisfied as well with the substantial rise in quality.
Providing Simpler and Quicker Integration Due to Software Package
• Another major benefit is that the software package is a catalyst for the robot system integration, as the pre-programmed applications simplify the process, accelerating it approximately twenty percent. Simplified integration leads to less programming and documentation, enabling systems integrators to offer a quicker, more cost-efficient service to their customers.
For more information, visit OptoForce or email Nóra Bereczki at nora.bereczki@optoforce.com.
About OptoForce
Founded in 2012 in Budapest, Hungary, OptoForce delivers leading robotics technology to provide organizations with multi-axis force and torque sensors for use in their robots. OptoForce force/torque sensors use infrared light to detect deformations of the silicone sensor structure as weight or other forces change, and can adjust its hold on the component, introducing a sense of touch for robotics grippers and automation technologies. OptoForce develops and supplies these radically new sensors via global distributors to a broad range of industries, including industrial robotics, health care, gaming, automotive, and the home appliances markets. For more information, visit www.OptoForce.com.
Featured Product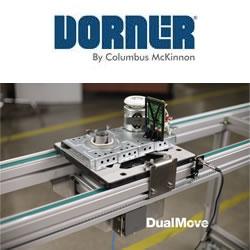 Dorner's 2200 Series Precision Move Pallet Systems are ideal for assembly automation. With features such as an innovative timing belt conveyor design and industry best pallet transfers, they get your product to the exact location, at the exact time and in the exact position it needs to be. They are now available with new options such as heavy load corner modules with 150 lb. capacity and 180 degree tight transfer corners for compact loops.