Heavy-duty modular plastic belt reliably handles fragile or unstable loads
LAS VEGAS, Sept. 27, 2017 — Honeywell Intelligrated showcases its Palmat™ pallet conveyor at PACK EXPO 2017. Palmat features heavy-duty plastic belting with a patented automatic belt take-up system to offer an alternative to rollers and chains for safe and reliable transportation of column-stacked or unitized loads on slip sheets, along with molded or specialty pallets.

Ideal for applications with fragile or unstable loads, the self-tracking, fully-supported belt is an especially effective solution for handling empty containers in preparation for fill lines in food and beverage operations. Available with smooth or non-skid belting in single, full-width or multiple strands, Palmat can support operations serving multiple international markets with different load configurations and pallet types.
Palmat is part of the full line of standard and custom pallet conveyor systems from Honeywell Intelligrated. Offerings include chain and driven roller conveyor for both accumulation and transportation applications, turns and transfers, and auxiliary products to enable peak operational performance and efficiency. Honeywell Intelligrated provides these pallet handling solutions as standalone components or as part of fully integrated material handling systems, with easy-to-use controls and software designed to interface with host systems.
"The Honeywell Intelligrated lineup of full-load pallet handling solutions combines proven reliability with advanced features and innovation," says Jerry Koch, vice president, product management. "This provides the high-performance manufacturing and distribution operations need to keep product flowing and adapt to evolving industry forces."
Honeywell Intelligrated designs, manufactures, installs and integrates complete material handling automation solutions tailored to the specific operational requirements of leading retailers, manufacturers and logistics providers. Solutions include industry-leading automation equipment such as conveyor, sortation, palletizing and robotic systems, combined with advanced software and controls. Honeywell Intelligrated backs each installation with complete lifecycle service and 24X7 technical support.
The business serves more than 60 of the top 100 global retailers, including more than half of the top 100 internet retailers. More information on Honeywell Intelligrated can be found at http://www.intelligrated.com.
Honeywell Safety and Productivity Solutions (SPS) provides products, software and connected solutions that improve productivity, workplace safety and asset performance for our customers across the globe. We deliver on this promise through industry-leading mobile devices, software, cloud technology and automation solutions, the broadest range of personal protective equipment and gas detection technology, and custom-engineered sensors, switches and controls. We also manufacture and sell a broad portfolio of footwear for work, play and outdoor activities, including XtraTuf™ and Muck Boot™ brand footwear.
Honeywell (www.honeywell.com) is a Fortune 100 software-industrial company that delivers industry specific solutions that include aerospace and automotive products and services; control technologies for buildings, homes, and industry; and performance materials globally. Our technologies help everything from aircraft, cars, homes and buildings, manufacturing plants, supply chains, and workers become more connected to make our world smarter, safer, and more sustainable. For more news and information on Honeywell, please visit www.honeywell.com/newsroom.
Featured Product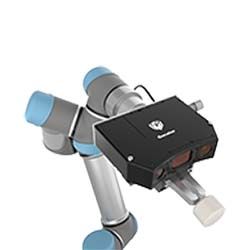 Easily integrate Gocator® 3D line profile and snapshot sensors with a variety of industrial robots to deliver high-performance 3D results in vision guidance, flexible inspection, material dispensing, and automated assembly with smart pick-and-place. Adding 3D vision to a robot turns repetitive, fixed motion into smart movement that can unlock greater value for your automation investment.