FABx Tech Talks feature messages about transformation, growth and the future of manufacturing
CHICAGO, Sept. 19, 2017 /PRNewswire-USNewswire/ -- FABTECH 2017, North America's largest metal forming, fabricating, welding and finishing event, is embracing a popular tech talk concept with the addition of short inspirational talks given by industry visionaries on their experiences and thoughts for how innovation is driving manufacturing forward.

The presentations — dubbed "FABx Tech Talks" — will provide FABTECH attendees with a glimpse into manufacturing's future, including what tomorrow's jobs will look like and what companies must do to remain competitive.
The FABx Tech Talks will be the opening keynote presentation on Nov. 6, the first morning of FABTECH, which takes place Nov. 6-9 at Chicago's McCormick Place.
FABx Tech Talks participants include:
Adam Genei, Founder, Mobsteel
Jesse James, Founder, West Coast Choppers
Karen Kerr, Executive Managing Director, GE Ventures
Albert Paley, World-Renowned Sculpture Artist, aPaley Studios
Jacques Panis, President, Shinola
Michael Walton, Industry Solution Executive (Manufacturing Industry), Microsoft
"We are very excited to have these top innovators provide their expert insight via this new and engaging forum for the opening keynote," said John Catalano, FABTECH show co-manager and SME senior director. "The FABx Tech Talks add a motivational element to our already impressive presentation lineup, and introduce emerging topics and trends that are central themes throughout FABTECH, from the show floor to the education program."
All FABx speakers will motivate attendees with a short 12-minute talk.
James and Paley will take the stage first to discuss their very unique collaboration using metal art to bring to life the importance of metalworking technology. Walton, Kerr and Panis will each offer their own personal stories on the evolution taking place in manufacturing and what the future holds. Genei will conclude by sharing his passion for manufacturing and the value of making things with your hands; his formula for success is simple: hard work.
To learn more about the FABx Tech Talks on Nov. 6, and to register for FABTECH 2017, visit fabtechexpo.com.
About FABTECH
FABTECH is North America's largest collaboration of technology, equipment and knowledge in the metal forming, fabricating, welding and finishing industries. The event provides a powerfully aligned hands-on, face-to-face business growth experience, attracting more than 1,700 exhibitors and 50,000 attendees. The event is made possible by its five co-sponsors, all of whom represent the varied and diverse makeup of the manufacturing industry. They include the American Welding Society, the Chemical Coaters Association International, the Fabricators & Manufacturers Association International, the Precision Metalforming Association and SME. Read more about FABTECH's co-sponsors here.
Featured Product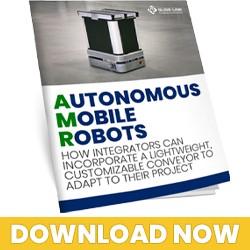 This eBook covers Glide-Line's conveyor attachments built specifically for AMRs. We go through the many variables that integrators are looking for in a cost-efficient AMR conveyor design, like: - lightweight, yet powerful - high flexibility & configurable -durability & dependability - DC-driven. At Glide-Line we solve problems that other conveyor manufacturers won't: simplicity - easy to maintain,flexible configurability, creating an efficient, hassle-free customer experience - customizations are normal to meet your needs.