DJI Goggles Feature Groundbreaking Head Tracking Technology, Wireless Connectivity with DJI Mavic Pro, & Innovative Touchpad
DJI recently threw their proverbial hat into the ring with their first FPV goggles, the DJI Goggles. Within hours the DJI Goggles sold out, heralding a new era in DJIs history. "The technology imbued in these goggles is the first of its kind, in particular the Head Tracking Technology, which is sure to turn heads - both figuratively and literally," commented Drone World President and Founder Stephen McKenna. He continued, saying "When DJI first showcased these goggles in November 2016 we knew they would be a huge hit, and they are destined to exponentially grow in popularity as consumers discover them."

The DJI Goggles offer high resolution with 2K screens split into two 1280x1440 sections, designed for the ultimate low lag transmission. Utilizing DJIs OccuSync wireless transmission system, up to four devices can be connected to the Mavic Pro simultaneously. Built-in antennas guarantee 360°coverage, providing pilots with a reliable connection regardless of location. What truly sets these goggles apart, however, is their marvelous Head Tracking Technology, which allows users to control both aircraft yaw and camera tilt. These are the first FPV goggles to accomplish this feat, further cementing DJIs place as the king of drones.
Another stunning feature that ups the "cool factor" is the touchpad on the side of the goggles. The design is sleek, effortless, and allows users to cycle through menus with ease without removing the goggles. All of the familiar DJI intelligent flight modes are accessible through the Goggles themselves via simple swipe and tap gestures. Need to look around? The goggles flip up easily, remaining securely strapped while granting a quick look around.
For years we at Drone World have offered Fat Shark goggles, a perennial leader in FPV Goggles. Fat Shark Dominator V3 goggles are compatible with DJI Phantom 4, Phantom 4 Pro (Pro+), Phantom 4 Advanced, and both the Inspire 1 and 2 models (thanks to the HDMI ports). To learn more about the Fat Shark FPV Goggles, DJI Goggles, and how the two compare to the Headplay SE V2 Goggles, be sure to check out our goggles comparison page.
DJI Goggles offer FPV perspectives for multiple wearers, effectively creating flight experiences for drone pilots and their friends like never seen before. They connect wirelessly to the DJI Mavic Pro, and connect via the Micro USB port for the Inspire 2 and Phantom 4 series. The Inspire series, Phantom 4 Pro+, and Phantom 4 Advanced + drones connect with the HDMI cable. Vice President of Drone World Chris Brunasso remarked: "Ultimately its evident that DJI has put a plenty of thought and planning into these goggles, from the equal weight distribution around the head, to the adjustable knob, and even an interpupillary distance knob to tune the Goggles to fit your eyes. For a first time product, these goggles are loaded with a bevy of intelligent features that betray DJIs ample forethought and commitment to user-friendly products."
About Drone World:
Drone-World.com is the Webs preferred destination for consumer and professional unmanned aerial drones, drone kits, and drone accessories. Drone World combines superior customer service and know-how with over 5 years of drone experience and 10 years of web sales and service. They specialize in custom DJI Phantom & Mavic bundle kits, including the highly popular DJI Phantom 4 Pro/+ Executive & Falcon Edition kits featured in RotorDrone Magazine and commercial use Inspire 2 kits, Osmo kits and the newly released DJI Phantom 4 Pro kit and the DJI Phantom 4 Pro+ (Plus) bundle. Use coupon code ACC15 for 15% off Drone World brand accessories.
Featured Product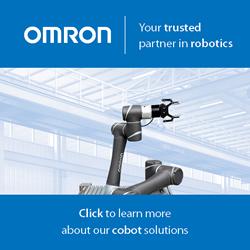 Humans and robots can now share tasks - and this new partnership is on the verge of revolutionizing the production line. Today's drivers like data-driven services, decreasing product lifetimes and the need for product differentiation are putting flexibility paramount, and no technology is better suited to meet these needs than the Omron TM Series Collaborative Robot. With force feedback, collision detection technology and an intuitive, hand-guided teaching mechanism, the TM Series cobot is designed to work in immediate proximity to a human worker and is easier than ever to train on new tasks.