Mustafa Ayhan, IoT & Industry 4.0 coordinator at Bosch, will be speaking about the so-called fourth Industrial Revolution and its inevitable impact on global industry at CWIEME Istanbul 2017.
The fourth industrial revolution is just around the corner, and manufacturers need to be prepared. This is according to multinational engineering and electronics company Bosch. Mustafa Ayhan is the companys IoT & Industry 4.0 coordinator and says that making the necessary preparations is essential for manufacturers looking to stay afloat in the coming decades.

"In a world that has evolved into digital, there is no escape from the new production revolution," says Ayhan, who is also a member of the Consulting Council at the Ministry of Science, Industry and Technology in Turkey. "Bosch is a leading IoT and Industry 4.0 provider. We believe that it is essential to start the transition to Industry 4.0 as soon as possible in order to be ready for when the market eventually demands it."
Industry 4.0 - an apt term for the fourth and, more importantly, digital industrial revolution - has been a hot topic for discussion in the industry since Professor Detlef Zühlke, director of Innovative Factory Systems at the German Research Center for Artificial Intelligence, presented his SmartFactoryKL concept at CWIEME Berlin in 2015. The idea is that the Internet of Things (IoT) of the 21st Century has led manufacturing down a one-way path towards total digitalization and automation.
In recent years, Bosch has noticed a growing demand for personalized products, mainly as a result of the IoT and the proliferation of 3D printing and other high-speed automated manufacturing machines. According to Ayhan, to be able to offer this level of personalization and still remain competitive, companies will need to adapt quickly, and this will only be possible with Industry 4.0 technologies.
"Its an investment," he says. "However, once implemented, Industry 4.0 has been proven to bring significant benefits such as growth, investment, employment, productivity and a competitive advantage."
CWIEME Istanbul
Mustafa Ayhan will be speaking about the fourth Industrial Revolution and its impact on the manufacturing industry at CWIEME Istanbul 2017, taking place between 2nd-4th November at the Istanbul Expo Center. The CWIEME Istanbul seminar programme will explore the many areas of electrical industries on the brink of disruption at a time when demand for more efficient, intelligent and powerful electric machines is reaching new heights.
Ayhans seminar is entitled 'Strategies for change: An OEMs perspective on the current and future impact of digitalization, IoT and Industry 4.0 for electrical manufacturing and will take place 11:40-12:20 on 3rd November in the CWIEME Seminar Theatre. It will touch upon Boschs own journey towards digitalization in order to explain how this challenging transformation can be successful.
"We want to share all the knowledge and experience we have gained in the field of Industry 4.0 and IoT with the industrialists, and contribute to the global economy," he says. "In this context, CWIEME, a global platform on which new products and solutions are exhibited, will be extremely beneficial. I think that this seminar will be of interest to the entire production sector, especially in the field of electrical manufacturing, and will be useful for getting companies thinking about the potential of Industry 4.0."
CWIEME Istanbul - the regions only dedicated event to coil winding, electric motor and transformer manufacturing technologies
Dates and opening times: Thursday 2nd November 2017 - 09:30-17:30 Friday 3rd November 2017 - 09:30-17:30
Saturday 4th November 2017 - 09:30-16:30
Venue: Istanbul Expo Center, Yeşilköy Mah., Atatürk Cad. 5/5, 34149 Bakırköy/İstanbul, Turkey
Featured Product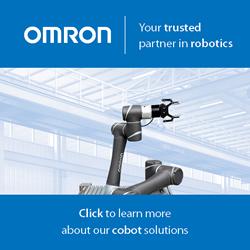 Humans and robots can now share tasks - and this new partnership is on the verge of revolutionizing the production line. Today's drivers like data-driven services, decreasing product lifetimes and the need for product differentiation are putting flexibility paramount, and no technology is better suited to meet these needs than the Omron TM Series Collaborative Robot. With force feedback, collision detection technology and an intuitive, hand-guided teaching mechanism, the TM Series cobot is designed to work in immediate proximity to a human worker and is easier than ever to train on new tasks.