DOBOT Magician supports functions like 3D printing, laser engraving, writing & drawing, visual program, etc.
NEW YORK, Nov. 10, 2017 /PRNewswire/ -- It is announced that DOBOT Magician has been named as CES 2018 Innovation Awards Honoree, which is the world's first multi-functional high-precision smart robotic arm for desktops. It's easy to use, precise, flexible and highly expandable. DOBOT Magician supports functions like 3D printing, laser engraving, writing & drawing, visual program, etc. DOBOT Magician entered in this prestigious program is judged by a preeminent panel of independent industrial designers, independent engineers and members of the trade media to honor outstanding design and engineering in cutting edge consumer electronics products across 28 product categories.

DOBOT Magician is a versatile educational robot arm, which is specially designed for STEAM education. Companied with different end-tools, DOBOT Magician can show many interesting functions, such as 3D printing, laser engraving, writing & drawing.
Not only that, it is an ideal machine learning platform for the study comprehensive subjects. For instance, students or makers can learn Programming, Data Modeling, Mechanical Engineering, Computing and Industrial Simulating and more.
"It's a great honor for us to be named as Innovation Awards Honoree, this award is the endorsement to the design and technology on DOBOT Magician. We strive to bring a more convenient and pleasure world by DOBOT Magician", said DOBOT founder and CEO Jerry Liu.
The prestigious CES Innovation Awards are sponsored by the Consumer Technology Association (CTA)™, the owner and producer of CES 2018, the global gathering place for all who thrive on the business of consumer technologies, and have been recognizing achievements in product design and engineering since 1976.
DOBOT series robot arm will be displayed at CES 2018, which runs January 9-12, 2018, in Las Vegas, Nevada and the Booth number is 25750, South Hall 2. As an Honoree, it will also be displayed at CES Unveiled New York, which features dozens of exhibitors and networking opportunities and runs 3:00-7:30 PM November 9 at the Metropolitan Pavilion in New York.
As an Entry, DOBOT Magician is evaluated on its engineering, aesthetic, design qualities, and unique features, which make it be more competitive than other robots in the marketplace. It also reflects that DOBOT Magician is one of the most cutting tech products in the market.
About DOBOT:
DOBOT was built by 5 dedicated robotics engineers with the mission of providing the best robotic solution for innovation education in China and continuously developing the extensive applications in this arena. More than 60% of DOBOT's staff are engineers, most of them are from MIT, Tsinghua University, Shandong University and HIT. It owns core technologies in robot arm and over 100 international patents. The DOBOT robot arms have been sold over to more than 100 countries and regions so far. Up to now, DOBOT has been a leading company in the field of educational robot as well as smart desktop robot arm. DOBOT Magician is also the first company in the world who brought industrial robotic arm to desktop.
Featured Product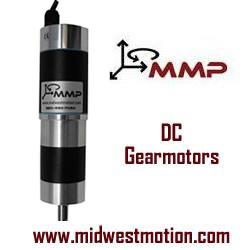 Midwest Motion Products, Inc. (MMP), is a well-established, healthy, & growing Family Owned Business, founded in 2001. MMP specializes in cost-effective standard DC Gearmotors, Motors, Controls, and ancillary equipment. Known world-wide for our "Lightning Fast" delivery capabilities, you can have a Standard Planetary or Right Angled DC Gearmotor BUILT and SHIPPED, often on the very same day you call. Offering Brushed and Brushless designs, with winding voltages ranging from 12 VDC to 120 VDC, we can deliver your "Robust & Reliable" samples within HOURS, instead of weeks, or even months.