Shared AV shuttle fleet to transport passengers in mixed traffic across downtown Tampa hailed as a "Game Changer"
Coast Autonomous, a software and technology company, announced today that the Hillsborough Area Regional Transit Authority (HART) has selected Coast Autonomous, along with community design firm Stantec, to provide autonomous mobility services for the Marion Street Transitway in downtown Tampa, Florida.

This "game changing" project is the first deployment of self-driving shuttles by a transit agency located in the United States. The Coast P-1 shuttles will operate in an open environment with live and mixed traffic, solving a mobility gap by connecting the Marion Transit Center and parking to employment centers. The Marion Street project is funded by the Florida Department of Transportation (FDOT).
"Transportation is changing. FDOT and HART are leaders in this transportation transformation that will deliver safer, cleaner, and more flexible mobility options," notes David M. Hickey, Managing Director for Coast Autonomous. "We are honored to be part of this innovative team and look forward to setting a new standard for self-driving vehicle service in this first-in-the-nation project."
Coast Autonomous and Stantec will provide project and program management along with related infrastructure design. Coast Autonomous will provide and operate the autonomous systems and fleet, which includes AV shuttles designed and manufactured by Coast. To kick off the project, Coast will be unveiling its P-1 self-driving shuttle, which will be equipped with lidar sensors, stereo cameras, GPS, and V2X technology to transport passengers along the corridor during daytime hours. The deployment of Coasts P-1 shuttles is expected to act as a catalyst for further automation in transportation throughout the Tampa Bay region as part of the Downtown Tampa Autonomous Transit Project.
"Passenger safety and experience are the essential elements of any transportation initiative, says Pierre Lefèvre, the father of low-speed AV technology and inventor of the worlds first commercially available autonomous shuttle. "With redundant safety applications and a ground-breaking electric drivetrain built specifically for autonomy, weve designed the P-1 shuttle to provide safe, passenger-friendly autonomous transportation."
About Coast Autonomous
Coast Autonomous is a software and technology company at the center of one of the fastest and most profound disruptions to impact the transportation and logistics industries. Coast has developed a complete suite of Autonomous Vehicle (AV) software that includes mapping & localization, robotics & AI, fleet management and supervision systems. Using a variety of vehicles equipped with this best-in-class software, Coast provides Transportation-as-a-Service (TaaS) solutions to cities, theme parks, campuses, airports and other low-speed environments. Based in Pasadena, California, Coasts team is recognized for its experience and expertise in all aspects of implementing and operating AV fleets, while prioritizing safety and user experience. To learn how Coast Autonomous can help you power autonomous transportation in your environment, visit CoastAutonomous.com.
About HART
Hillsborough Area Regional Transit Authority (HART) is a regional transportation authority charged with planning, financing, constructing and operating public transit facilities and service within Hillsborough County, Florida.
About Stantec
We're active members of the communities we serve. That's why at Stantec, we always design with community in mind. The Stantec community unites more than 22,000 employees working in over 400 locations. Our work—professional consulting in planning, engineering, architecture, interior design, landscape architecture, surveying, environmental sciences, project management, and project economics—begins at the intersection of community, creativity, and client relationships. With a long-term commitment to the people and places we serve, Stantec has the unique ability to connect to projects on a personal level and advance the quality of life in communities across the globe.
Featured Product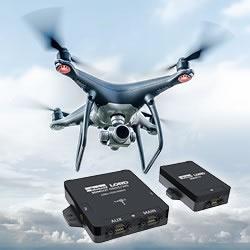 The C-series high performing inertial sensor package provides an OEM form-factor that is optimized for size and weight in Off Highway, Unmanned Ground Vehicles/Mobile Robots and Unmanned Aerial Systems. It's compact and low-profile anodized aluminum housing can be connected directly to a printed circuit board using a UART header or a Samtec FFSD ribbon cable and 2-56 fasteners.