Logistics Robots and Agricultural Robots to Drive High Volumes, with Additional Growth in the Telepresence, Customer Service, and Construction Markets
As robotics technologies have advanced significantly in the past few years, robots for enterprise markets are becoming more affordable, productive, and smarter than ever before. According to a new report from Tractica, this trend is resulting in a significant increase in the number of enterprises within the agriculture, construction, warehousing and logistics, telepresence, customer service, and other sectors willing to invest in robots to cut costs and increase profits, while trusting robots to solve business challenges and productivity gaps.

Tractica forecasts that worldwide shipments of enterprise robots will grow from approximately 83,000 units in 2016 to 1.2 million units annually by 2022, increasing at a compound annual growth rate (CAGR) of 57% during that period. Global revenue for the enterprise robotics market will increase from $5.9 billion in 2016 to $67.9 billion in 2022.
"Just as robotics has transformed manufacturing and heavy industry in recent years, robots are beginning to impact enterprise work processes, with innovative and effective solutions being introduced with increased frequency," says research analyst Manoj Sahi. "A number of prominent companies around the world are already investing in large-scale enterprise robotics implementations."
Tracticas report, "Robotics for Enterprise Markets", examines the market and technology issues surrounding enterprise robots and presents 7-year revenue forecasts for the industry. The report addresses the crucial market drivers and challenges, in addition to assessing the most important technology issues that will influence market development. In total, 64 key industry players are profiled. Market forecasts are segmented by world region and application market. An Executive Summary of the report is available for free download on the firms website.
About Tractica
Tractica is a market intelligence firm that focuses on human interaction with technology. Tracticas global market research and consulting services combine qualitative and quantitative research methodologies to provide a comprehensive view of the emerging market opportunities surrounding Artificial Intelligence, Robotics, User Interface Technologies, Wearable Devices, and Digital Health. For more information, visit www.tractica.com or call +1.303.248.3000.
Featured Product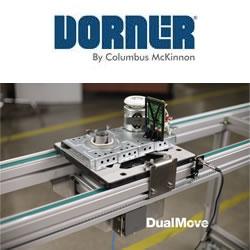 Dorner's 2200 Series Precision Move Pallet Systems are ideal for assembly automation. With features such as an innovative timing belt conveyor design and industry best pallet transfers, they get your product to the exact location, at the exact time and in the exact position it needs to be. They are now available with new options such as heavy load corner modules with 150 lb. capacity and 180 degree tight transfer corners for compact loops.