MANET developer to provide scalable MANET radio to Endeavor Robotics for US Army UGVs
NEW YORK, Nov. 16, 2017 /PRNewswire/ -- Persistent Systems, LLC ("Persistent"), a leader in Mobile Ad hoc Network (MANET) technology and developers of Wave Relay® and the MPU5 radio, announced they are part of Endeavor Robotics' winning team for the US Army's MTRS Inc II Award (Man-Transportable Robotic System Increment II). This $100 Million contract award has an option for an additional $58 million worth of deliverables to provide a fleet of up to 1,200 mid-sized unmanned ground vehicles (UGVs) to the US Army. Persistent Systems' MPU5 is Endeavor's MANET radio of choice to provide secure and long-range data communication for C2 (command and control), video, CBRNe, and other critical sensor data.

Endeavor Robotics chose Persistent Systems to provide its onboard communications because the MPU5 provides the performance and feature set critical to the UGV's mission and the US Army's success:
100+ Mbps, 3x3 MIMO radio with up to 6 watts of transmit power to provide a long range and secure IP network in both LOS (line-of-sight) and NLOS (non-line-of-sight) environments
Modular frequency architecture that allows the operator change RF bands (L-, S-, and C-Band) as needed by simply swapping radio modules
An industry leading Wave Relay® MANET capability that maintains the UGV's network connectivity in a dynamic multi-hop mobile ad hoc network: the capability Persistent is best known for
"We're extremely proud of our partnership with Endeavor Robotics and congratulate them on this very important award" said Dr. Herbert Rubens, CEO of Persistent Systems. "The US Army has been a long-standing customer of Persistent Systems, and we appreciate the opportunity to deliver potentially 2,400 more MPU5 radios to support this UGV mission, the US warfighter, and the US Army."
Persistent and Endeavor announced their partnership back in July of 2016 and have been working together since. Tom Frost, President of Endeavor Robotics commented, "Persistent builds a great radio and has been a great partner to Endeavor. We look forward to working together on this Army program."
The program has been officially awarded to Endeavor Robotics by the US Army's PEO CS&CSS program office. Low rate initial production should begin in the 2018 / 2019 timeframe.
About Persistent Systems, LLC
Headquartered in New York City since 2007, Persistent Systems, LLC is a global communications technology company which develops, manufactures, and integrates a patented and secure Mobile Ad Hoc Networking (MANET) system: Wave Relay®. The company's industry leading R&D team has designed wireless networking protocols to support their cutting-edge Wave Relay® system and technology. Wave Relay® transmits and receives data, video, voice and other applications under the most difficult and unpredictable conditions. Their suite of products is field proven and utilized in Commercial, Military, Government, Industrial, Agriculture, Robotics, and Unmanned System markets.
SOURCE Persistent Systems, LLC
Featured Product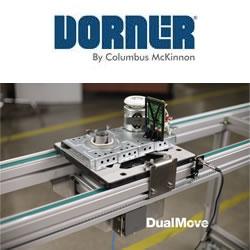 Dorner's 2200 Series Precision Move Pallet Systems are ideal for assembly automation. With features such as an innovative timing belt conveyor design and industry best pallet transfers, they get your product to the exact location, at the exact time and in the exact position it needs to be. They are now available with new options such as heavy load corner modules with 150 lb. capacity and 180 degree tight transfer corners for compact loops.